Has Colbert Hosted An Award Show Before Emmys?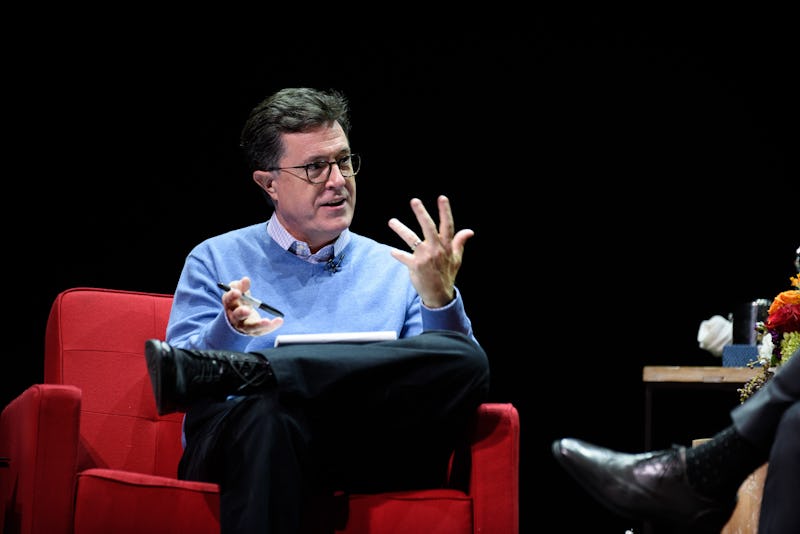 Dave Kotinsky/Getty Images Entertainment/Getty Images
Go ahead and screech like the bald eagle from The Colbert Report opening credits (I don't know, it just feels like the right way to celebrate?), because Stephen Colbert will host the 2017 Primetime Emmy Awards. Now, I don't know your story, but when CBS announced that The Late Show presenter will be at the helm of the Emmys this fall, the following question crossed my mind: Has Colbert hosted an award show before? A quick google and I had my answer: No. Nope. He has not. The 2017 Emmys will be the former Colbert Report star's first award show hosting gig.
Huh. How about that. Colbert definitely seems like someone who has hosted an award show already, right? No, this is not a Berenstain/Berenstein situation; I don't, like, vividly remember Colbert emceeing a particular Oscars or a particular VMAs or whatever. It is just kind of wild that we've gone this long without seeing David Letterman's successor host an award show. He's funny, charming, well-liked, and a person with a late-night show. Dude checks boxes left and right. But hey, better late (show) than never.
"Stephen is the ultimate master of ceremonies with award-winning creative talents, and as we've seen the past few months, he has a fearless passion for live television," CBS Entertainment Executive Vice President Jack Sussman said in a statement released by the network. "We look forward to honoring television's best while entertaining audiences with the creative energy and sharp comedy of Stephen Colbert.
CBS also revealed that the ceremony will take place on Sept. 17. Yeah, eight months seems like a long ways away, but before you know it, Colbert will be introducing other presenters on that Emmys stage.
Before I let you go, here's another question that crossed my mind: Will Colbert co-host the Emmys alongside his Colbert Report alter ego? Oh, I can't wait to find out.