Hillary Clinton's Campaign Twitter Account Returns To Troll Trump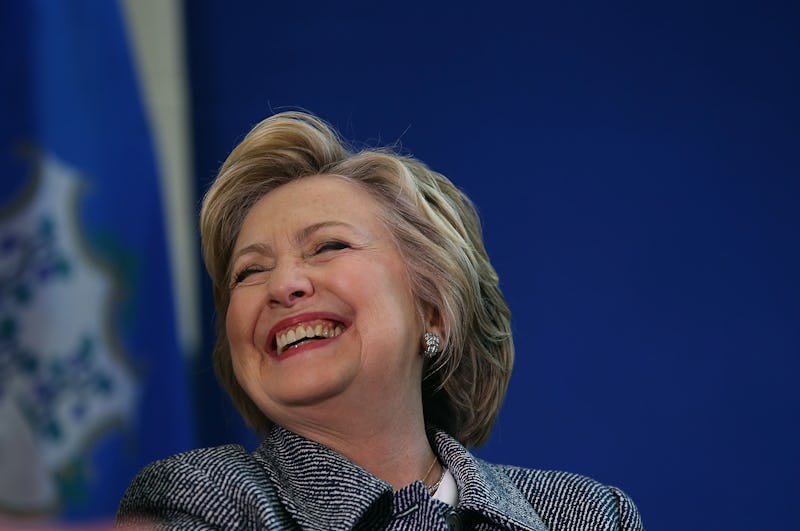 Justin Sullivan/Getty Images News/Getty Images
On Thursday, after the president attempted to pull his former opponent into the ring with him, Hillary Clinton's campaign Twitter account responded to Trump in what amounted to a masterclass on comebacks. "Why is [sic] that Hillary Clintons family and Dems dealings with Russia are not looked at, but my non-dealings are?" Trump tweeted Thursday.
Although it's unclear what exactly "dealings" or "non-dealings" Trump was referring to, the clear winner in replies came from Clinton's campaign account. @TheBriefing2016 just replied with three question marks and an iconic GIF from Ferris Bueller's Day Off asking, "You're still here?"
@TheBriefing2016 was one of Clinton's various campaign accounts, primarily used for sharing articles produced by her campaign. Before its epic Trump troll, the account hadn't posted a tweet since Nov. 7, the day before Trump's upset in the presidential election. Ironically, Clinton was often criticized for her social media strategy, which critics said failed to reach audiences effectively. The identity of the person currently controlling the @TheBriefing2016 account is unknown at this time, but their skills show that at least one person on the Clinton social media team knows their stuff.
Trump has renewed his criticism of Clinton lately as his own legal troubles consume the news cycle. "Crooked H destroyed phones w/ hammer, 'bleached' emails, & had husband meet w/AG days before she was cleared- & they talk about obstruction?" Trump tweeted immediately after his first post about Clinton on Thursday. He also shared another tweet on Tuesday criticizing a former Obama administration official: "A.G. Lynch made law enforcement decisions for political purposes...gave Hillary Clinton a free pass and protection. Totally illegal!"
Several senior members of the administration are reportedly embroiled in a congressional inquiry into the Russian interference in the 2016 election. The president's aides are reportedly concerned with his "obsession" over the Russia investigation, and it has potentially caused a shift in focus in the White House away from governing. Congress hasn't passed a single piece of major legislation since Trump took office, and Trump's approval ratings have hit several historic lows and keep dropping.
Twitter is still Trump's primary medium for expressing himself, so it was apt that the Clinton campaign's response came from that platform, too. That the tweet didn't come from Clinton's personal account was perhaps a nod to Trump's attempt to keep the rivalry alive by attacking his former opponent.
So long as the president continues comparing himself to Clinton, her political relevance will remain intact.