Hillary Clinton Wants To Remind You About Another Important Deadline On Nov. 6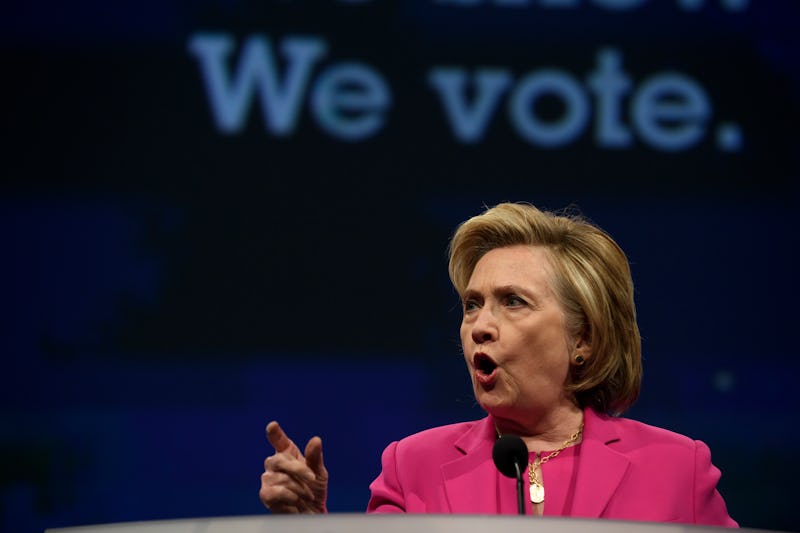 Jeff Swensen/Getty Images News/Getty Images
Just days before the 2018 midterm elections, former Secretary of State Hillary Clinton reminded voters that there is another important event coming up on Nov. 6: the deadline to submit a public comment about immigrant family detention. On Friday, Clinton urged voters to support immigrant families, and she tweeted a link to a petition advocating for immigrant children's safety.
Back in September, the Department of Homeland Security proposed a rule that — if passed — would amend the 1990s Flores settlement established by Flores v. Reno. According to CNN, the Flores settlement limits the amount of time the government can detain immigrant children, and also ensures that they are detained in licensed facilities under humane conditions.
The Trump administration, however, wants to overturn these time limits and detain immigrant children with their parents in Immigration and Customs Enforcement residential facilities, as opposed to the licensed facilities mandated by the Flores settlement. According to the FWD.us petition that Clinton tweeted on Friday, the DHS' proposed rule would permit the Trump administration to detain immigrant families indefinitely, also in opposition to the protections guaranteed by the Flores settlement.
The deadline to submit a public comment on this proposed rule is on Tuesday — the same day as the midterm elections — and Clinton wants voters to "take five minutes to say #FamiliesBelongTogether" as they get out the vote.
This is not the first time that Clinton has gone head to head with the president. Earlier this year, Clinton denounced the Trump administration's "zero tolerance" immigration policy, which led to many immigrant children being separated from their parents at the border. In just a few days, Clinton was also able to raise more than $1.5 million for various organizations combating family separations, Marie Claire reported back in June.
"This is a moral and humanitarian crisis," Clinton said at the time. "Every one of us who's ever been a parent or a grandparent, an aunt, a big sister, any one of us who's ever held a child in our arms, every human being with a sense of compassion and decency, should be outraged."
Despite facing strong backlash, Trump reiterated his support for strict immigration policies on Thursday, during remarks delivered at the White House. But Clinton is not the only one actively challenging Trump on this issue. According to Politico, some Republicans retiring in districts that Clinton won back in the 2016 presidential election are concerned that Trump's increasingly hardline stance on immigration could alienate voters.
Democrats, meanwhile, believe that Trump's immigration policies will move voters to the left, in their favor. And after Trump announced a proposed executive order to eliminate guaranteed birthright citizenship, many Democrats — including former President Barack Obama — pointed out that such a move would be unconstitutional.
Trump and Attorney General Jeff Sessions are also facing a class-action lawsuit filed by six Honduran refugees and migrants, in response to the Trump administration's policies against a migrant caravan working its way toward the U.S.' southern border. With the midterm elections just days away, FiveThirtyEight's Nate Silver has indicated that it is unclear what impact Trump's immigration stance will have on election results, but with Clinton, Obama, and other high-profile lawmakers vocalizing their opposition, immigration could be an important issue for voters on Tuesday.