Lili Reinhart Explains How Demi Lovato Inspired Her To Feel Unashamed About Her Mental Health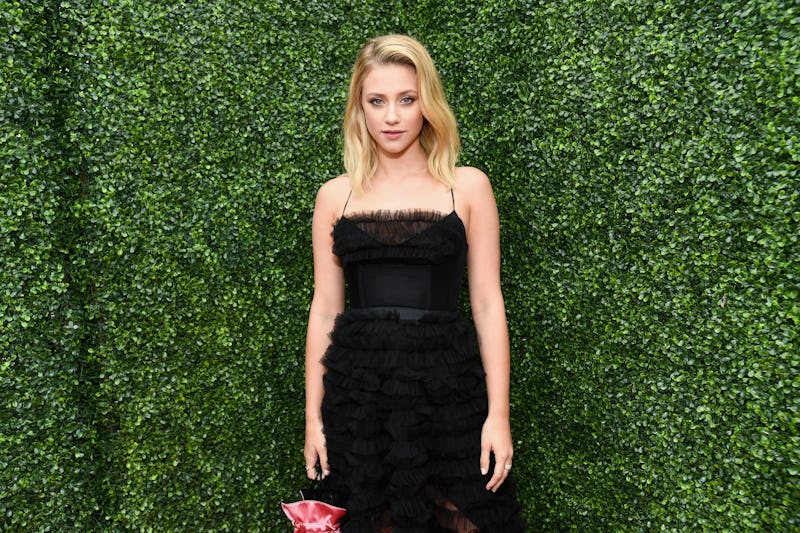 Emma McIntyre/Getty Images Entertainment/Getty Images
Recently it seems that more and more celebs have come forward to open up about their mental health challenges, and it's aided a lot in de-stigmatizing conditions like depression and anxiety. It turns out that some stars have their own celeb inspirations who help them to feel better about their struggles, as Riverdale star Lili Reinhart recently opened up about how Demi Lovato inspired her to feel more comfortable with herself. In an interview with Variety, the actor behind Betty Cooper said, "I definitely looked up to Demi Lovato. I remember her as being the first person [I heard] talk about depression and growing up with an eating disorder."
Reinhart continued, saying, "I personally have not had an eating disorder, but her openness and honesty about her mental health was really cool to me. I was like, Oh, that's how I feel! She's famous and beautiful and has money, and it's strange to think that she could still feel that way too."
The actor's statement about Lovato's impact on her shows how the chain of positive influence can spread quickly, even after just one person chooses to speak their truth. Reinhart further explained Lovato's impact on her life to Variety, saying,
"It was just an awareness that [depression] can affect anyone of any gender, any race, any age, no matter how much money you make or how famous you are. It's just something you were born with, and you can get past it. It doesn't have to define you, or make you [feel] any less of a person."
Just as Reinhart learned that depression or mental health don't discriminate between people's wealth or appearance from Lovato, tons of Riverdale fans probably have learned the same lesson by following Reinhart. The 21 year-old frequently takes to Twitter to share her relatable experiences with anxiety and depression.
Reinhart's Variety interview came about a month after the actor first tweeted about Lovato's impact on her life. On July 24, when the news spread that Lovato had overdosed and was hospitalized, the Riverdale star said, "Praying for [Demi Lovato] and her health. When I was 14, she was an idol to me in how she spoke so openly about mental health. And now she continues to inspire thousands of young men and women with her body positivity messages. Addiction and mental illness doesn't discriminate."
Lovato first checked into rehab in 2011, where she received treatment for anorexia, bulimia, and cutting, as Refinery29 reports. At that time, the then-Disney Channel star received a diagnosis for bipolar disorder, and she almost immediately opened up to the public afterwards to talk about her her experience. In an interview with People from 2011, Lovato said, "I've battled depression from a young age. I never found out until I went into treatment that I am bipolar." Lovato also shared, "I'd be lying if I said there weren't days where I just want to stay in bed all day because I'm ashamed of my body. It's a struggle I'll probably have to deal with for the rest of my life."
Reinhart continues that kind of candidness when she speaks about her own mental health challenges, and it's inspiring to see how one brave person can inspire so many others.
If you or someone you know is considering self-harm or experiencing suicidal thoughts, call the National Suicide Prevention Hotline at 1-800-273-8255 or text HOME to the Crisis Text Line at 741741.
If you or someone you know has an eating disorder and needs help, call the National Eating Disorders Association helpline at 1-800-931-2237, text 741741, or chat online with a Helpline volunteer here.