What Coast Guard Families Stand To Lose In The Government Shutdown Is Hard To Imagine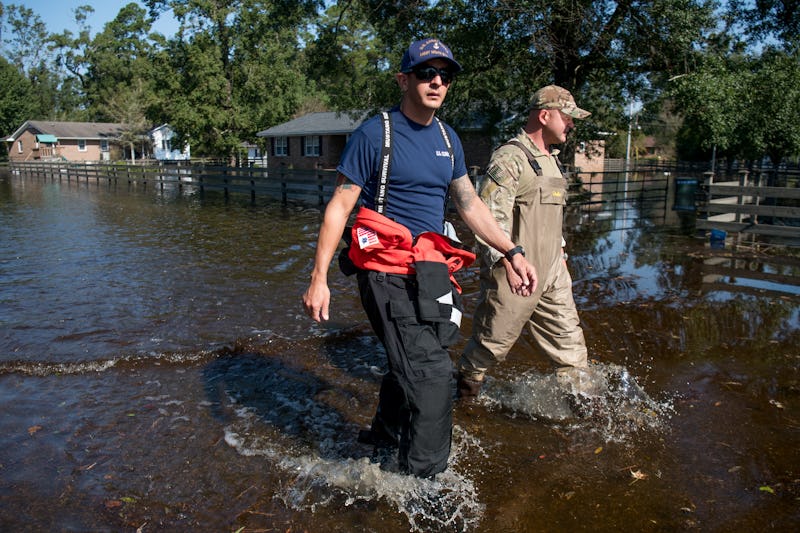 Sean Rayford/Getty Images News/Getty Images
The impact of the government shutdown has already been felt by hundreds of thousands of federal workers who have spent the last 35 days working without pay — but the implications might extend far beyond that for a select group. According to CNN, the government shutdown could impact Coast Guard families in the worst possible way: the service won't be able to give death benefits to the families of any members killed during the shutdown. In addition, Coast Guard retirees and their families might not receive their benefits either, if the crisis continues.
Lt Cmdr. Scott McBride, a spokesperson for the Coast Guard, told CNN,
As the lapse in appropriation continues, more than 55,000 Coast Guard active duty, reserve, and civilian employees will not receive monthly pay and benefits. In addition, the federal funding hiatus may affect the retired pay for 50,000 Coast Guard annuitants.
McBride confirmed that the families of any U.S. Coast Guard member killed in active service during the shutdown will not receive the standard one-time death benefit payment for as long as the shutdown continues. He did not specify if those families would receive backpay for that benefit once the government reopened.
CNN notes that over 40,000 active-duty Coast Guard members didn't receive their paychecks on Jan. 15; this marked the first time in American history that U.S. service members didn't receive paychecks during a lapse in government funding.
Additionally, the Coast Guard recently announced that if the government shutdown continues into February, the military organization will not be able to pay its retired members. This is another first for the Coast Guard.
In an email to Federal News Network, a Coast Guard spokesman said, "We cannot disburse the annuitant payroll on Feb. 1 because the appropriation has been expended below projected January 2019 expenditure needs. In order for the Coast Guard to pay its retired members, we will require a [fiscal 2019] appropriation, a continuing resolution or passage of an alternative funding measure."
Regardless of how long the shutdown last, it's a given that Coast Guard families are already feeling the stress. In a video posted to Twitter, Adm. Karl Schultz said,
Your Coast Guard leadership team & the American people stand in awe of your continued dedication to duty, resilience, & that of your families. I find it unacceptable that @USCG members must rely on food pantries & donations to get through day-to-day life. #uscg
In the video, MCPO Jason Vanderhaden added, "This will end. We will get through this. I want to thank you for your strong leadership thus far in this challenge...when we get through this, I want you to reflect back on your leadership and be proud of what you did and how you took care of your people."
In his closing message, Schultz encouraged his Coast Guard service members to "stand tall," saying, "Your dedication and resilience through this adversity defines the absolute best of our nation."