You Can Get Free Wendy's Frosties For All Of 2019 — Here's How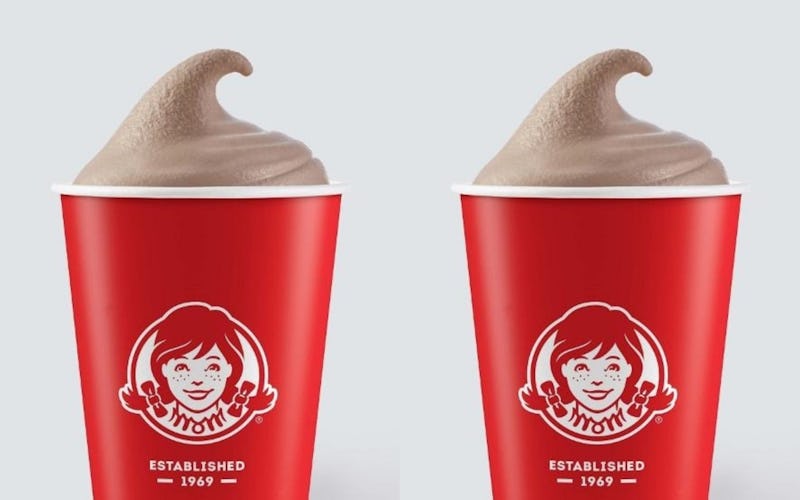 Wendy's
I know, I know — ice cream isn't always the dessert you think to turn to when the weather starts getting colder. But what if I told you that I knew how to get free Wendy's Frosties for a year in 2019? Would you be willing to make an exception then? I sure would — and hey, guess what? That's exactly what's happening now: Wendy's Frosty Key Tags are back for 2019, so if you're willing to shell out $2 upfront for one, you can then avail yourself of the ability to get a free Jr. Frosty every time you buy something else at Wendy's... for an entire year. Plus, those $2 go to a nonprofit organization geared towards getting foster kids adopted, so, I mean… what's not to love? Everybody wins!
Wendy's first began selling Frosty Key Tags in 2010, and in the years since, it's grown into one of the burger chain's most beloved promotions — as much for the Frosties as for the excellent cause it supports. A portion of sales from the tags always goes to the Dave Thomas Foundation for Adoption, the nonprofit created by Wendy's founder Dave Thomas in 1992 focused on foster care adoption. In 2018, that portion is 85 percent for tags purchased between Nov. 5, 2018 and Jan. 31, 2019. The Dave Thomas Foundation for Adoption website also notes that $1.90 of every $2 tag sold will go to the foundation. Last year's promotion raised $6 million; this year, the goal is to hit $10 million.
There are, of course, some terms and conditions associated with the key tags' benefits: First, you're limited in terms of size; the key tag entitles you to free Jr. Frosties, but not any of the other sizes. Also, you do need to make a purchase in order to get your free Frosty — you can't just waltz in, flash your tag, and walk out with ice cream and nothing else. (If you're not sure what to get, might I suggest an order of fries for dunking purposes? They're just $1 for any size right now. Bonus.) And lastly, you're only entitled to one free Frosty per visit, per key tag.
The tag is, however, actually valid for a full year, from Jan. 1 through Dec. 31, 2019 — so in that sense, it absolutely does what it says on the tin. Also, they're good for both the chocolate and vanilla varieties, so, hey, you've got options.
Want a key tag of your own? There are two ways to buy them:
Go To A Participating Wendy's Location And Buy It In Person
Sometimes — not always, but sometime — the old ways are best. You can find your nearest Wendy's here; once you've located it, all you have to do is go to it, ask if they have the key tags in stock, and purchase away. According to Wendy's post about the promotion on The Square Deal, you can buy Frosty Key Tags in bulk this way if you like.
Get One Online
We can buy everything else online these days, so why not a Frosty Key Tag? Get yours by going through the Dave Thomas Foundation website. If you click here, you'll be taken directly to the purchase page, where you can specify the number of tags you want to buy before clicking "Add to Cart" (for the curious, yes, you can buy them in bulk here, too). Feeling generous? Go ahead and make an additional donation while you're at it; there's space for that, too.
There's an additional shipping charge of $1, so expect to pay $3 for the tag if you buy online; also know that processing might take between two and three weeks depending on USPS holiday shipping times.
Technically, the Frosties aren't totally free — but I would argue that $2 for a year's supply is an incredibly small price to pay, particularly when the majority of the proceeds go to a good cause. Head here to find out more.