Here's What You Can Do To Support The "Silence Breakers" In Your Own Life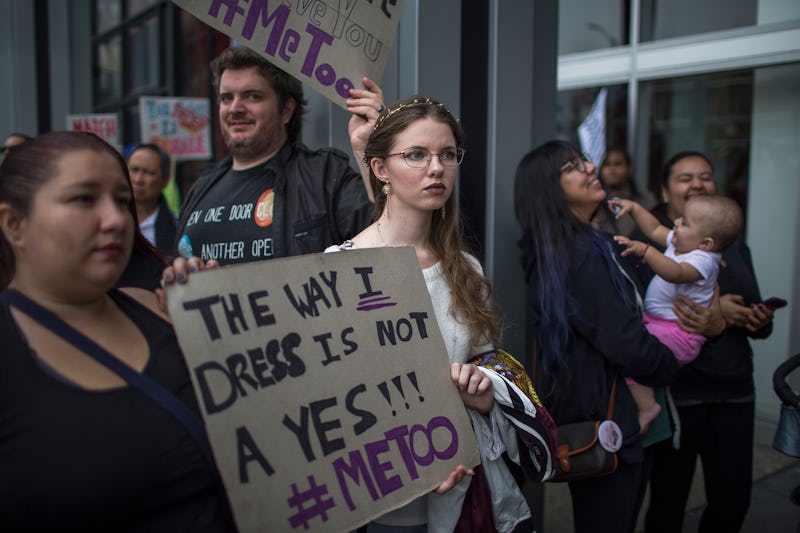 David McNew/Getty Images News/Getty Images
TIME magazine unveiled its Person of the Year award on Wednesday with a striking feature of the people behind the #MeToo movement. From Hollywood stars to media figures, hotel employees to lobbyists, TIME honored "the silence breakers" behind this burgeoning movement, the voices that came forward to accuse powerful industry titans of decades-long sexual abuse. And in the wake of this announcement, you might be considering: how can you support "silence breakers" in your own circles?
Some of the "silence breakers" chosen as TIME's Person of the Year are familiar faces, many of whom have made headlines in recent months over public accusations against high-level industry figures. Rose McGowan, Alyssa Milano, Terry Crews, Megyn Kelly — these are the people who have confronted oversized figures in their industries, some even an entire network of players complicit in their alleged abuse.
And then there are the non-celebrities, the regular women who, in their line of work, have come across scores of male bosses and customers who have harassed or assaulted them. Among its silence breakers, TIME included a strawberry picker whose stalker threatened her children, and housekeepers at the Plaza Hotel who together filed a sexual harassment lawsuit against the hotel.
Like the regular women featured as TIME's Person of the Year, the absence of a public platform makes it far more difficult to come forward with allegations of sexual misconduct. And to support the silence breakers in your communities, the first and most important thing you can do is to believe them. Believe them whether they are your sister, brother, friend, or neighbor. Believe them when they accuse someone you know of sexual abuse. Believe them whether they are telling you about their experience in confidence, or speaking to a journalist on the record.
Another way you can actively support silence breakers is to back the organizations that fight for them to be heard and respected, and campaigns dedicated to helping them. Whether it's national nonprofits like Rape, Abuse, & Incest National Network (RAINN) and the National Sexual Violence Resource Center (NSVRC), or a campaign on your school campus that raises awareness for sexual assault survivors, your support for these causes will go a long way, whether it's volunteering your time or giving a donation.
One of the more impactful actions you can take if you want to support sexual violence survivors is to pick up your phone and call your elected official. Putting pressure on your representatives and senators is one of the most effective ways to alert them to what their constituents are concerned about. We've seen this work to kill numerous health care bills, and Congress is poised for its own reckoning with sexual harassment; several male lawmakers have already faced intense pressure to resign following damning allegations, while others push for legislation to better protect sexual harassment victims on Capitol Hill.
And finally, one of the most crucial things you can do to support silence breakers is to change mindsets around sexual assault and harassment, and the attitude towards women that has kept us silent for far too long. First, recognize that this is not just a women's issue — yes, women are overwhelmingly the victims and men the perpetrators, but abusers target both men and women. By categorizing this as solely a gendered issue, it discourages men from coming forward, further disenfranchises women, and empowers predators to continue abusing others.
As you challenge your own ideas about sexual assault and harassment, consider doing the same to others. It might be awkward and often infuriating to try to change somebody's mind, especially when it comes to a such a sensitive issue, but if you really want to support the silence breakers in your own life, having an uncomfortable conversation or two is the least we can do.