'The Walking Dead' Series 9 Has Arrived, So Here's How To Avoid Serious FOMO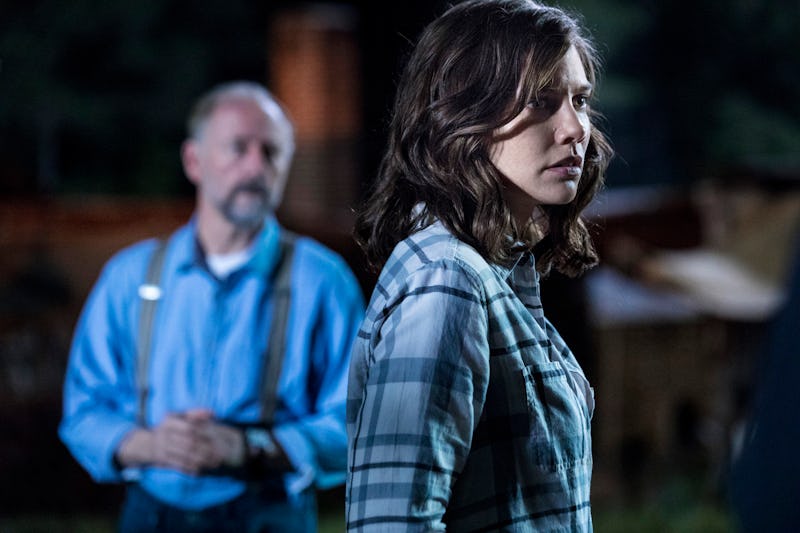 Jackson Lee Davis/AMC
The month of all things spooky is thoroughly underway, and it certainly wouldn't be complete without the world's favourite post-apocalyptic drama. Now in its ninth season, The Walking Dead will be saying hello to a new showrunner and goodbye to two major characters that have been with fans since the very beginning. With all this excitement, you're probably wondering how to watch The Walking Dead in the UK. Well fear not; FOX has totally got your back and will be airing the new series every Monday.
Unfortunately, the new series will not be "simulcast" with the U.S. airing — as has been the case previously. Instead, The Walking Dead will air 24 hours after it is broadcast in the States, meaning Brits won't get their fill of the premiere until Monday Oct. 8 at 9 p.m., according to FOX's website, which is a bummer.
For those of you who don't have Sky, sadly, FOX isn't available on terrestrial TV. However, NOW TV currently has a pretty stellar offer on its Entertainment Pass that involves a 14-day free trial. Essentially, you'll be able to watch the first two episodes of Season 9 for free. After the two week free trial, the bundle will then cost you £7.99 a month
But is the deal worth it? Well, the Pass also allows you to stream the first eight seasons of The Walking Dead up until Nov. 30. If you're able to marathon over 100 episodes from now until then, I salute you.
However, if you're not on NOW TV and don't own a Sky box but are signed up to Virgin Media, then good news; FOX is also available on Virgin Media too. The first eight seasons are actually available to stream right now.
Well, it looks like fans will have plenty of different ways to get their feels in check and take on whatever new showrunner Angela Kang decides to dish out this season. Basically, you're gonna be up to your eyeballs in Walking Dead content for the next two months. And judging by the reception of the premiere across the pond, Season 9 is already setting foot on the right track.
Vox commended the show's "ability to bounce back out of nowhere", thanks in part to Kang's role as showrunner and the significant time jump presented in the episode, while Forbes noted that "small, subtle changes" to the format have made it a "much better viewing experience" all round.
"Kang has done a fantastic job breathing new life into The Walking Dead," Forbes continued. "There's more variety in filming locations. The cinematography doesn't feel quite as cheap [...] and the central conflict at the core of the season is much more interesting than Negan ever was."
Excited? I sure am. I mean, obviously I'm upset that this is the last fans will see of Rick Grimes (Andrew Lincoln) and Maggie Greene (Lauren Cohan), although there's a part of me that's totally intrigued as to how Kang is going to deal with their inevitably gruesome exits. Only time will tell.
The Walking Dead premieres on FOX on Monday, Oct. 8 at 9 p.m.