Twitter Is Here For 'SI' Rookie Hunter McGrady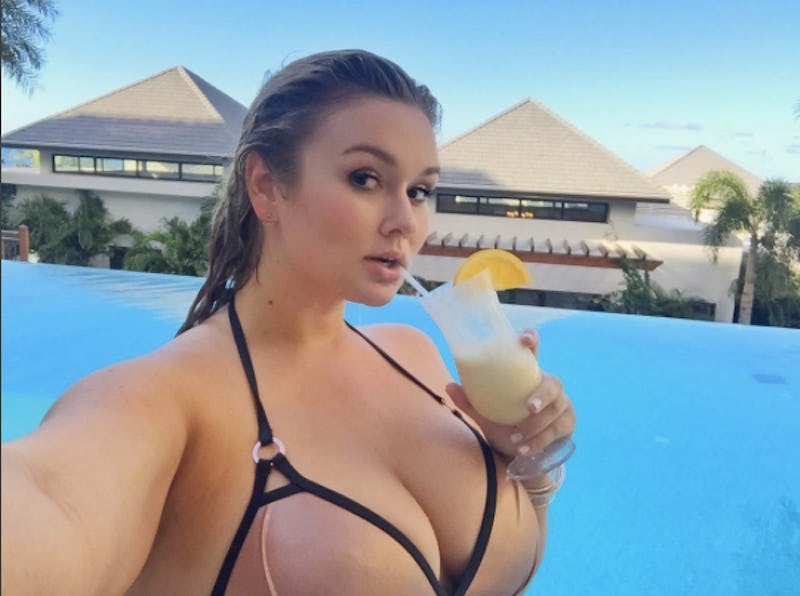 Well, it's official: The Sports Illustrated's 2017 Swimsuit Issue is here and the Internet is buzzing — and not just because there are a bunch of gorgeous women frolicking on a beach within its pages (though that's pretty rad, too_. The issue embraces diversity and has some unexpected faces, too. Hunter McGrady's Sports Illustrated spread is something that really has Twitter talking.
The buzz around McGrady's images are likely a combination of things. Grady is a plus size model, and arguably the largest that SI has ever cast for the magazine. Another is the fact that her swimsuit is actually just body paint. That's right — no swimsuits here, just expertly applied paint to make McGrady look like she's wearing a suit. The spread features a tie-die type design complete with painted on braid detailing.
Though looking at the photos you probably wouldn't notice right away, the paint job is pretty convincing — and of course, McGrady is totally slaying in each and every photo. That considered, it's no surprise that Twitter is totally here for it. Of course, McGrady's fans have always been here for her — just check out the comments on this post from McGrady's Instagram page:
Her Sports Illustrated spread is even better. McGrady tweeted the image this morning:
Don't worry, Hunter — this incredible image is enough to bring plenty of us to tears. Naturally, Twitter is loving all of it — for starters, McGrady's dad is clearly her number one fan:
So cute, right? Of course, dad wasn't the only one who loved her images. Plenty of people are popping up in McGrady's mentions to sing her praises.
This post that is also a supportive shout-out to women with curves.
Goals is right. Sports Illustrated totally let McGrady be herself for this issue, and she looks unapologetically gorgeous. It's no wonder that the Internet is here for it.