A Woman & Her Son Went To Court For A Domestic Violence Hearing — & ICE Arrested Them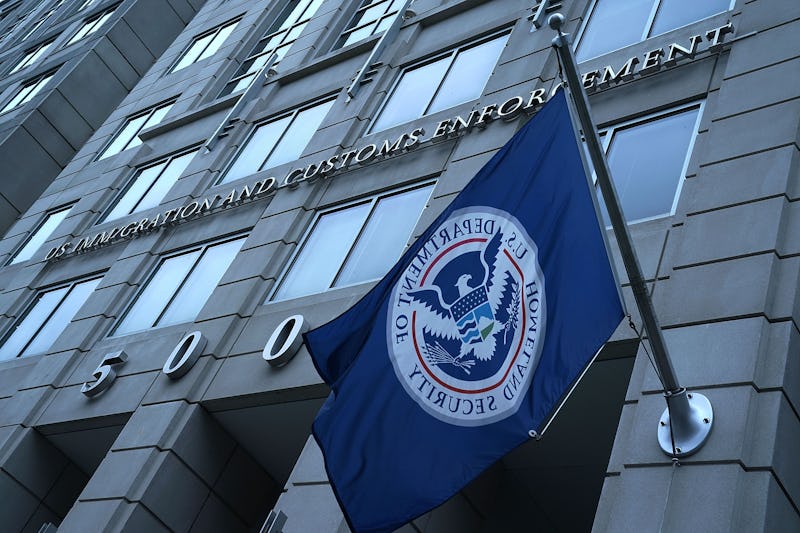 Alex Wong/Getty Images News/Getty Images
In early July in Charlotte, North Carolina, U.S. Customs and Immigration Enforcement, or ICE, arrested a woman and her son who were involved domestic violence situation with the woman's ex-fiance. Both had turned up to the courthouse for a hearing and were arrested outside a courtroom that was going to specifically used for domestic violence hearings, according to The Charlotte Observer.
"I've never seen anything like it before," Mecklenburg Assistant Public Defender Herman Little told The Charlotte Observer. He saw the woman — only identified in media reports as Maria because she is a possible domestic violence survivor — get arrested. "How in the world is anybody going to get justice if both the victims and the defendants are not going to come to court because they're all afraid of being deported. This is crazy."
On the morning of the arrests, Little was leaving the court room to tell Maria and her son that the hearing had been delayed, he told the paper. When he opened the door, he saw them both in handcuffs. "I literally ran up to them. I said, 'What's going on?'" Little told the newspaper, adding that one of the ICE agents told him, "'Get back, get back,' and he tells me he doesn't have to tell me anything. I said, 'Yes, you do. She's my client.'"
The July 9 hearing was for a misdemeanor complaint filed by Maria's ex-fiance; Maria was the defendant, according to the newspaper. Lisa Diesenderfer, an attorney with Charlotte Center for Legal Advocacy, told the newspaper that the pair was arrested before the son could testify against Maria's ex-fiance. Before that, Little told the newspaper that Maria's son, who is 16 years old, had accused the ex-fiance of hitting him.
Maria has another son, age 2, who she moved, along with her older son, into a shelter for domestic violence survivors, Diesenderfer told the newspaper. Maria's attorneys also said she had been granted an order of protection from her ex-fiance. Diesenderfer told The Charlotte Observer that the criminal complaint was filed in retaliation; Maria is also reportedly embroiled in a custody battle with her ex-fiance over her 2-year-old. Despite Maria's attorneys' claim that his complaint has no merit, it still meant that Maria was an immigrant with a criminal charge against her.
ICE spokesman Bryan Cox told the newspaper as much on Friday. "It is not in dispute. This person was not a victim or a witness. That day, she was showing up in the courthouse as a criminal defendant in a criminal case," Cox to the Observer. "It's apples and oranges," Cox said.
Cox said Maria overstayed her visa after entering the country from Colombia in August 2016; her visa expired in November 2016.
On Friday, more than two dozen supporters of the woman and her son held a rally in Charlotte to protest their arrests. At the rally, Maria said it was "one of the most humiliating and embarrassing" things she's ever experienced.
"Having to endure the stares of people around me, around the street, and looking incredibly shocked at us — looking at us as though we were criminals. And that was incredibly painful, because as I was walking, I was leaving my 2-year-old son behind," Maria said in Spanish.
The newspaper reported that the 2-year-old son was left at the courthouse daycare. They were held for about six hours before being reunited, according to The Observer.
Mecklenburg County public defender Kevin Tully said the arrest could have a chilling effect on the community. "The message is very clear: Come to the courthouse at your own risk of being arrested and caged by the federal government," Tully said. "If they are victims of crime, their willingness to participate with police, from the outset, is going to disappear."