Here's What Could Happen To Kavanaugh If Congress Says He Lied To Them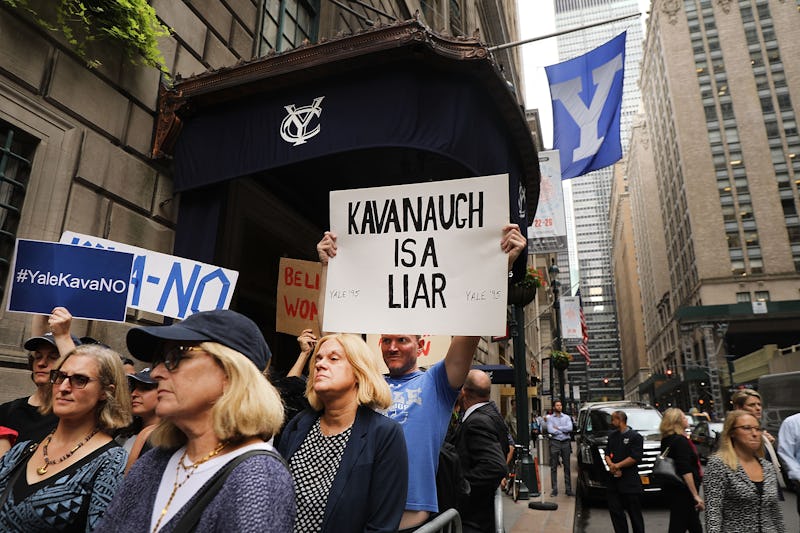 Spencer Platt/Getty Images News/Getty Images
Since U.S. Supreme Court nominee Brett Kavanaugh testified before the Senate Judiciary Committee, there's been a lot of discussion about whether the judge's testimony was entirely truthful. All the talk about perjury may have you wondering whether Kavanaugh could be jailed for lying to the Senate. The answer, though, isn't a simple yes or no.
Several of Kavanaugh's classmates have claimed that his Senate testimony included lies, particularly when it came to his claim that he had never blacked out from drinking. This claim was tied to Christine Blasey Ford's allegation that Kavanaugh attempted to sexually assaulted her while very drunk in high school, which Kavanaugh "unequivocally" denies.
The crime of lying under oath is also referred to as perjury, which U.S. Code Section 1621 explains as when someone under oath "willfully and contrary to such oath states or subscribes any material matter which he does not believe to be true." They can be prosecuted and then found guilty of that crime, which can land them with a fine and up to five years of prison time.
Section 1001 of the criminal code covers crimes involving false statements in a more general sense — that is, even if the person isn't under oath. According to that statute, "whoever, in any matter within the jurisdiction of the executive, legislative, or judicial branch of the government of the United States, knowingly and willfully" makes a false statement or hides information from Congress can also get a fine and up to five years in prison.
However, perjury is a notoriously difficult crime to prosecute because it's difficult to prove, according to Lawfare Blog. The crime, according to the statute, isn't just the act of stating an untrue fact; it also has to involve the "willful" intent to mislead. In order to prosecute someone for perjury, not only do you have to prove that they lied — you also have to prove that they knowingly lied with the intent of concealing the truth.
"[Because] the falsity of a statement can't be established by the testimony of a single witness, proving someone is knowingly providing false testimony is extremely difficult," said Chris Quinn, a Senior Deputy District Attorney in Oregon, in an interview with The Oregonian.
The country has recently seen one high-profile case in which someone was successfully prosecuted for lying to the FBI: former Trump campaign adviser George Papadopolous, who got two weeks in jail for lying in the context of the FBI's Russia investigation. According to The New York Times, the evidence against him was both significant and in written form, which made the lies possible to track. For Kavanaugh — or Ford, for that matter — to be charged with perjury, there are much more difficult hurdles to breach.
It would be functionally impossible to prove in court that Kavanaugh had lied about never having gotten blackout drunk without, for example, the existence of extensive video — and even that wouldn't necessarily present a clear case. GQ catalogued other possible alleged lies that Kavanaugh has told under oath, including, for example, some from his 2006 confirmation process to become a district court judge about his time working in the Bush administration.
These might be easier to prove if they are intentional lies, and some have even suggested that they warrant Kavanaugh's impeachment as a judge, as Slate wrote. Without the overwhelming support of Congress, though, this is highly unlikely to happen — and Congress is also the body that would have to have the will to prosecute his lies before the Senate Judiciary Committee as a crime.
Taken all together, Kavanaugh could technically be prosecuted if he intentionally lied to the Senate Judiciary Committee. But even if he did, it's highly unlikely that he would go to jail — especially in this political climate.