Bustle Booth At Sundance: Filmmaker Marianna Palka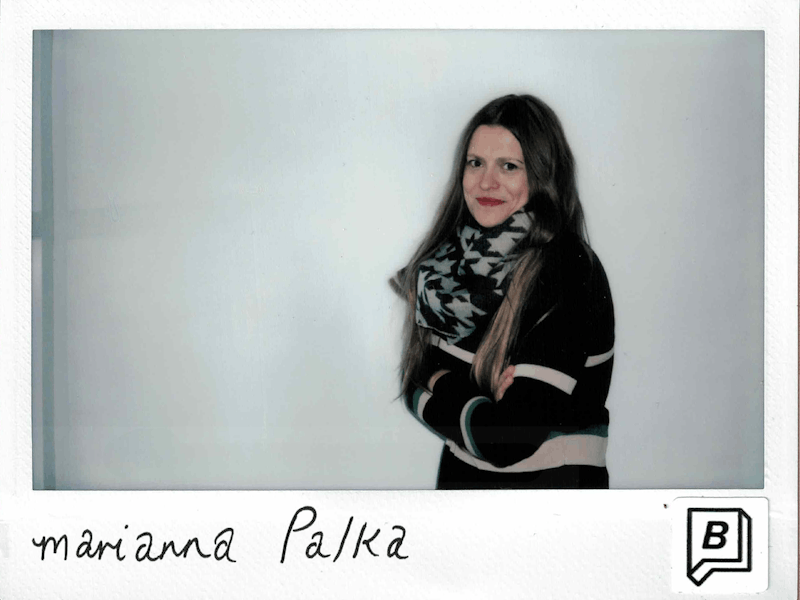 Kelsea Stahler/Bustle
When Bustle editors go on the road, whether it's for a film festival, a comic book convention, or a set visit, we want to give the celebs we meet along the way the chance to leave their mark. Literally. So we have them pose for polaroid that captures their latest adventure, hand them a pen, a piece of paper, a few questions, and ask them to get creative. The rest is up to them. This time, we caught up with writer, director, and star of Bitch, Marianna Palka, at the 2017 Sundance Film Festival in Park City, Utah for the Bustle Booth On Location.
Palka, who first broke out at Sundance with 2008's Good Dick — an intimate film about a young woman's relationship with sex as a result of sexual abuse as a child — now brings forth something rather different. Bitch is inspired by the real life case of a woman whose psychotic break leads her to behave as if she were a dog. Palka takes that as a jumping off point, and reuniting with her Good Dick co-star, Jason Ritter, explores the psychology behind why this might happen to a person and how the people around her might react in response.
Palka's vision is an intriguing one, so naturally, we had to get to know this filmmaker and actor a wee bit better.