In The Bustle Booth With Janet Mock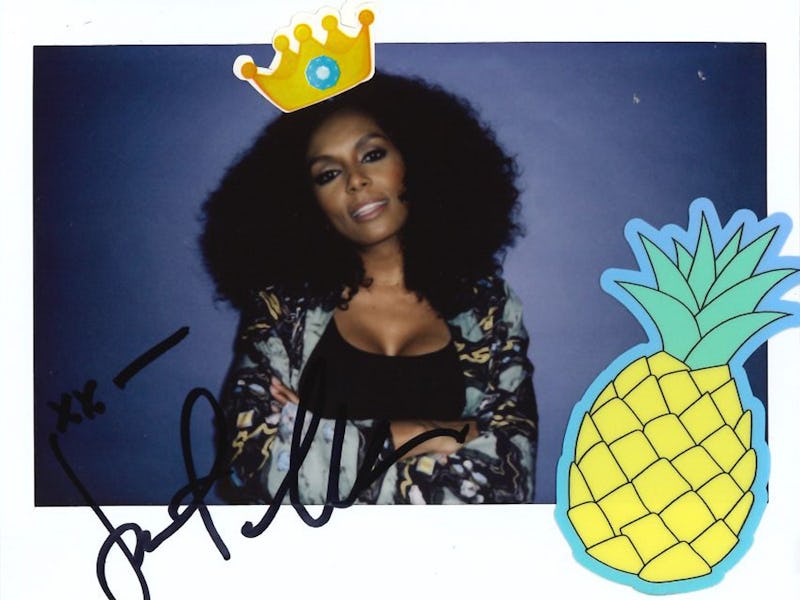 When celebrities come into Bustle HQ in New York, whether it's for a photoshoot, videoshoot, or a Facebook Live, we want to give them the chance to leave their mark. Literally. So we hand them a pen, a piece of paper, a few questions, and ask them to get creative. The rest is up to them. This time, author and trans activist Janet Mock is leaving her mark in the Bustle Booth.
Since Janet Mock came out publicly as a trans woman in a Marie Claire article back in 2011, she has become one of the foremost voices in the community. Both her first memoir, Redefining Realness, about her experience transitioning as a young person, and her most recent release, Surpassing Certainty, have been heralded as both beautiful and passionate, becoming handbooks to finding your truth and living life with strength and authenticity, for those both within and without the LGBTQ+ community.
But if her Bustle Booth entries are any indication, Mock isn't only a beacon for trans issues. She is also super relatable (who hasn't impressed their friends with knowing the lyrics to every current chart topper) and insightful, the kind of woman you'd definitely want to grab an iced soy latte with and gab for hours on end. Basically, we have no hesitation in saying: She slays!
Check out what else Mock drew, wrote and revealed about herself below.