One In Four Men Say Exposing Themselves Isn't Sexual Harassment, A New Poll Finds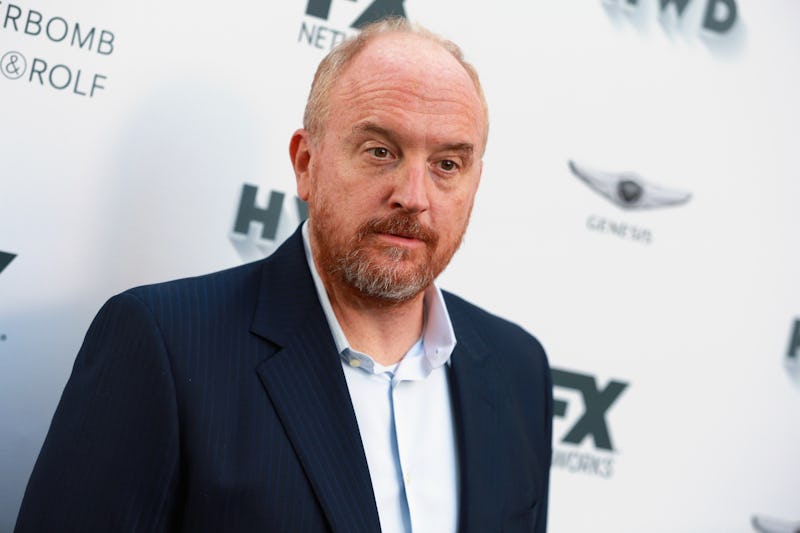 Rich Fury/Getty Images Entertainment/Getty Images
As more powerful men across major industries face repercussions for allegations of sexual misconduct, a new survey found that one in four men don't consider masturbating in front of someone else of or exposing themselves to others to be sexual harassment. The survey also found that overall, women were 10 to 20 percent more likely to consider something sexual harassment than men.
More than 1,000 Americans were polled by the Barna Group about what actions constitute as sexual harassment in an online survey. Across all categories, more women than men deemed an act as harassment. For example, more women than men considered touching or groping, as well as "forcing someone to do something sexual" to be sexual harassment. Women also reported experiencing sexual harassment three times more than men. Nationwide, 60 percent of women say they have been sexually harassed, according to a recent poll by Quinnipiac University.
After the #MeToo movement sparked more women to come forward about their experiences with sexual assault, the current climate has revealed just how insidious and widespread sexual misconduct really is in the workplace. High-profile celebrities, including comedian Louis C.K. and former NBC host Matt Lauer have been accused of inappropriately exposing themselves to women without consent. (C.K. admitted the allegations were true and apologized; Lauer said that some of it was "untrue and mischaracterized," but that there was "enough truth" in the allegations.) In both cases, the alleged harassment against women continued on for years without any repercussions to their careers.
To be clear, laws in the majority of states criminalize purposefully exposing your genitals to someone else without their consent for the purpose of sexual gratification, and it could be raised to a sexual assault charge if any physical contact is made. An indecent exposure conviction usually results in a misdemeanor charge, a fine, and the possibility of jail time. Some states might even require the person to register as a sex offender.
The difference in opinions between men and women in regards to sexual harassment is hardly surprising once you consider that women are statistically more likely to be sexually harassed and assaulted than men. One in four women and one in six men report being sexually assaulted in their lifetime.
Rape is also a disturbingly under-reported crime; 63 percent of sexual assaults are not reported to the police, according to the National Sexual Violence Resource Center. When an offender is an acquaintance or someone who the victim knows, only 18 to 40 percent of assaults are reported. The main reasons for not coming forward include not being believed and fear of reprisals, something that could be heightened if the perpetrator is a person in power.
Not knowing what constitutes as sexual harassment in the first place can be part of the problem. A recent poll by NBC found that while more than four out of five Americans believe that sexual harassment is taking place in the workplace, most men say they haven't stopped to consider their own behavior. Just nine percent of the nearly 3,800 people polled in the survey said that they thought sexual harassment was a problem in their own office. Only 46 percent of men said they have thought about their own behavior towards women since more victims began coming forward.
While the recent media attention has shined a bigger spotlight on allegations of sexual harassment, it's important to note that sexual misconduct committed by men in positions of power have been going on for years and without significant consequence to their careers. Women said that C.K. had exposed himself and sexually harassed them in the late '90s, but decided not to come forward because they feared for their own careers and C.K's influence in comedy. Female colleagues of Matt Lauer have also said that he sexually harassed them, but they didn't come forward earlier because they feared that their careers would be destroyed.