Here's Why There Are So Many Rumors About A Mitt Romney Comeback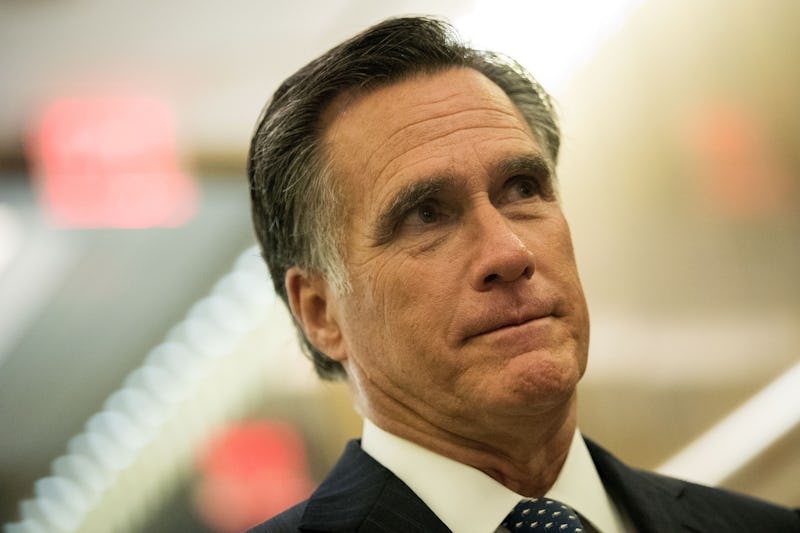 Drew Angerer/Getty Images News/Getty Images
After more than 40 years, Utah Sen. Orrin Hatch of the Republican party is set to end his term. The GOP politician had been working in the Senate since 1977, which made him America's Republican with the longest Senate career. With the 83-year-old's career coming to an end, people are wondering who will be the state's next senator — and a lot of the political focus is on former Massachusetts Gov. Mitt Romney. So, will Romney run for the Senate seat? There's a possibility that he just might.
There is one clue pointing to the probability of Romney running for the seat —and that's Hatch's support for him. Hatch has openly praised Romney and said he would be "perfect" for the position. The senior Republican made his views clear in a March interview published in The National Journal (behind paywall). Hatch told the publication about how he encouraged Romney to run for the seat.
I've expressed it to [Romney]. I can see why he might not want to do it, but I can also see why if he did it, it would be a great thing for America.
Hatch announced his decision not to run for re-election on Tuesday in a Twitter video. After lauding the American dream of growing up poor and ultimately becoming an American senator, Hatch said:
As your senator, I've always sought to fight for those who cannot fight for themselves. And I believe the results speak for themselves — I've authored more bills that have become law than any member of the Congress alive today.
When the president visited Utah last month, he said I was a fighter. I've always been a fighter. I was an amateur boxer in my youth, and I brought that fighting spirit with me to Washington. But every good fighter knows when to hang up the gloves. And for me, that time is soon approaching.
On Facebook, Romney praised Hatch's service but he didn't indicate any possibility of running for the Senate seat. Romney said:
I join the people of Utah in thanking my friend, Sen. Orrin Hatch for his more than forty years of service to our great state and nation. As Chairman of the Senate Finance and Judiciary Committees and as the longest-serving Republican Senator in U.S. history, Senator Hatch has represented the interests of Utah with distinction and honor. Ann and I wish Sen. Orrin Hatch and his loving wife Elaine all the best in their future endeavors.
Romney might run for the Senate seat, given his own political past and especially the apparent support he enjoys in Utah, according to NPR's analysis. The former Massachusetts governor ran for president in 2012, but ultimately lost the race to Democratic candidate Barack Obama. But in spite of his failure in 2012, Romney could still win Utah in the future if he competes for the coveted title of senator. In this particular state, Romney had overwhelming support from locals with 73 percent of the Utahn vote.
However, this is so far merely speculation, as there's no confirmation from Romney's end. The Republican has yet to say anything about the possibility of running for Senate. But if he does run, he could be a major skeptic against the president, Donald Trump.
In 2016, Romney called Trump "a phony, [and] a fraud":
His promises are as worthless as a degree from Trump University. He's playing the American public for suckers: He gets a free ride to the White House and all we get is a lousy hat.
With an openly critical view of Trump like this, Romney's possible future presence in the Senate could turn out to be a thorn in the president's side.