Mo Gilligan's Girlfriend Sophie Wise Is Has Her Own, Pretty Awesome Claims To Fame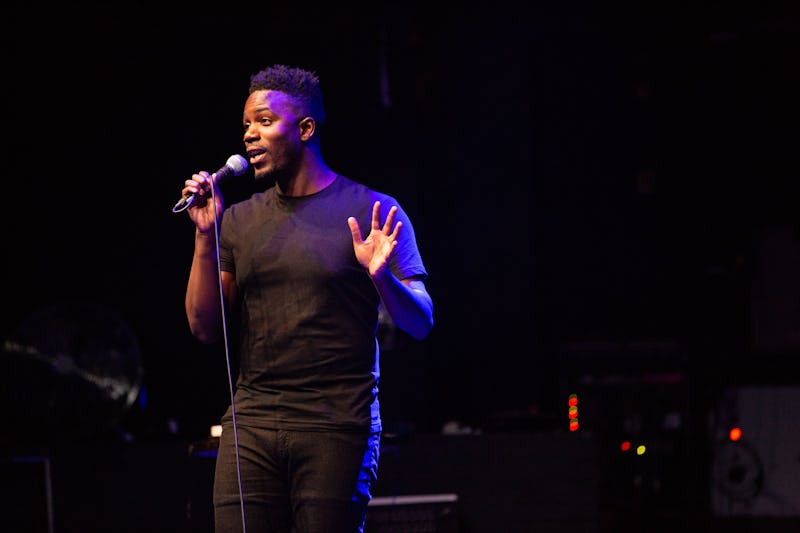 David Wala/Shutterstock
Comedian Mo Gilligan shot to fame after becoming a social media sensation, and now with his very own chat show, the London-based funnyman has cemented himself as the future of British comedy. In addition to starring on the Channel 4 series The Big Narstie Show, Gilligan is now hosting The Lateish Show With Mo Gilligan. But what else is there to know about the comedian? And is Mo Gilligan single? Here's everything we know about the Lateish Show star's love life.
If Gilligan's social media gives us any indication, it appears the comedian prefers to keep details of his private life out of the public eye. However, during a 2018 interview with the Evening Standard, the funnyman did reveal that he does have a girlfriend, and is in a long-term relationship with actress Sophie Wise. According to her official portfolio, Wise is a British actor who is perhaps best known for her roles in Doctors, Hollyoaks, Holby City, and the BBC crime-drama, Rillington Place. She has also appeared in a number of stage shows, including A Street Car Named Desire, Richard III, and Spring Awakening.
It's unclear if Wise and Gilligan are still an item, however. I have reached out to the comedian's representatives for comment and will update with any new information once it becomes available.
As mentioned previously, Gilligan is now the frontman of his very own chat show, The Lateish Show With Mo Gilligan. The series will air on Fridays at 10 p.m. on Channel 4. The network describe the series as being an "entertainment show built around [Gilligan's] stand up, strands and sketches." The broadcaster goes on to praise Gilligan for his "high-energy style" and "stunning physicality," and Channel 4's Head of Entertainment, Ed Havard, also had nothing but kind words to say about the chat show host. In an interview with the broadcaster, he said:
"Mo has been incredible week in, week out as the co-presenter of The Big Narstie Show and our audiences love him. We can't wait to work together again on his own series which promises to be one of the highlights of next year."
The channel's Commissioning Editor, Syeda Irtizaali, previously described Gilligan as being a joy to work with, and speaking to Channel 4, went on to add, "he's a brilliant comedian and a total pro, we're really excited to see what he brings to the table for his first solo outing." And it seems that Mo himself is pretty hyped to be working further with the channel — which he credits as being a pioneer of "original comedy."
During an interview with the Guardian, the Lateish Show host said that he's "taken risks" while building his successful comedy career, and revealed that nerves surrounding the launch of his latest TV venture are what drives his work ethic. Speaking to the publication, he said, "It's a big deal. But nerves keep me sharp. Nerves are making me work harder than I've ever worked to make sure this succeeds."
The Lateish Show with Mo Gilligan airs on Fridays at 10 p.m. on Channel 4.