Too Faced's Natural Love Palette Is Fit For Spring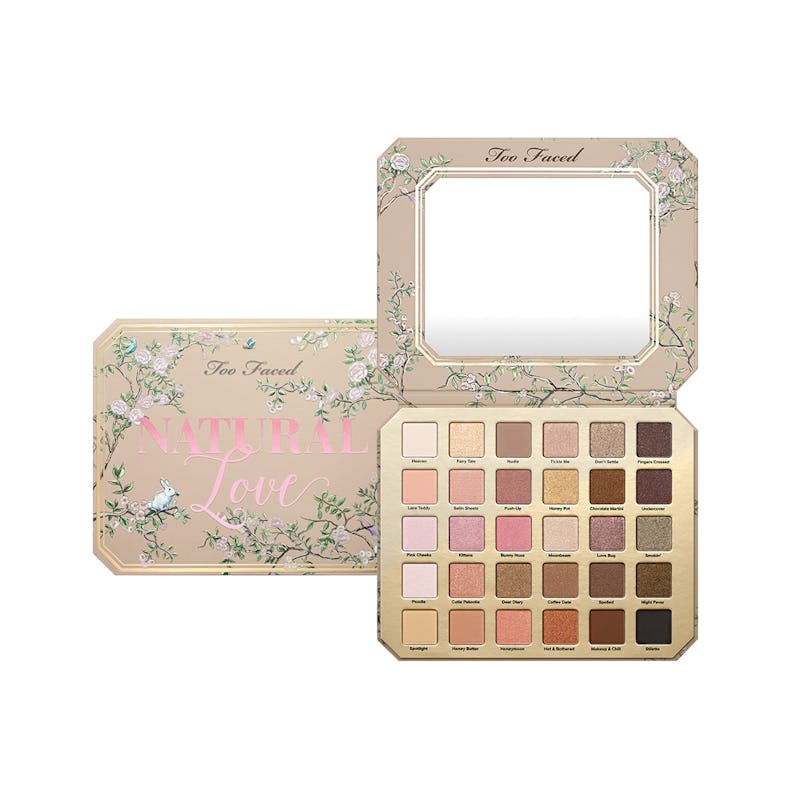 Spring has officially sprung on the Too Faced website. You can now shop the brand's spring/summer line-up, and trust me, you're going to want to fill your cart with all of the seasonal beauty on their site. Is Too Faced's Natural Love Eye Shadow Palette sold out? If you're hoping to sweep some pastel colors across your lids, you're in luck.
Not only did Too Faced launch an incredible set of 30 eye shadows, but they also released brand new highlight shades and lippies that will help you celebrate the warm weather. The Natural Love Palette was still in stock at the time of publication, and it's sure to be the only shadow range you'll need this season. It's got everything from pastel pinks to pops of peaches and plums because your spring beauty routine is all about color!
It retails for $59 and holds some of the best-selling hues inside. According to the brand's Instagram, they've taken favorites from their Natural Eyes Palette, Natural Matte Palette along with others to create a mix of powders you're sure to love. Shop this item while it's still in stock on the Too Faced website to make sure your regimen is complete, just in time for the season!
This is so much more than a spring fling! You'll have a long-lasting love affair with these shades.
Just look at these gorgeous colors!
You're bound to fall head over heels for the latest collection.
There's no way you could deny a purchase when there are this many shadows in one palette.
The packaging is just as beautiful as what it holds inside.
Natural Love Eye Shadow Palette, $59, Too Faced Cosmetics
Once these shades are in your possession, your makeup will be completely gorgeous and on-trend. So, make sure you've added it to your cart and received an order confirmation before this product goes out of stock!