John Mayer Loves Lush Bath Bombs So Much He Wrote A Song About Them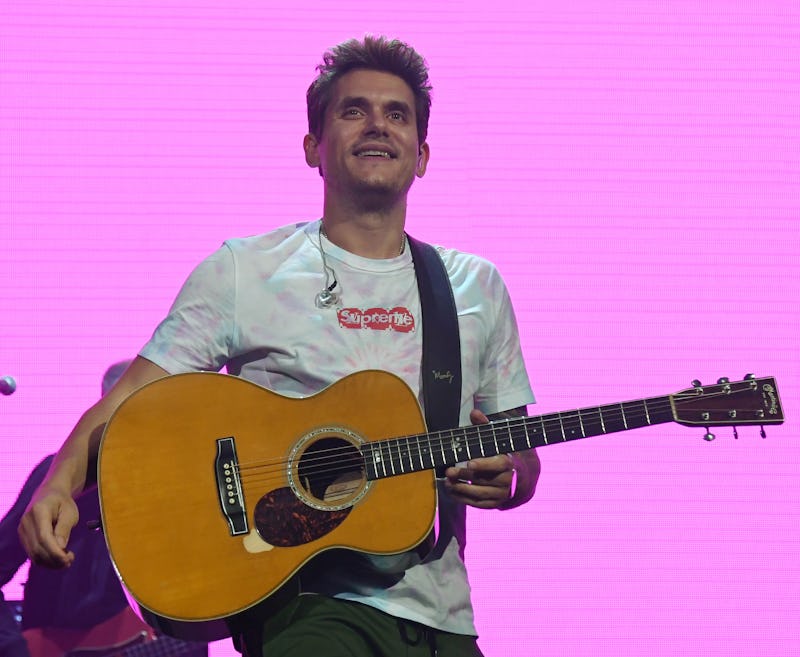 Ethan Miller/Getty Images Entertainment/Getty Images
Lush fans express their love of the brand's bath products in creative and unique ways, from bath bomb jewelry to Instagram videos deconstructing products. But John Mayer has just trumped them all by writing a song about Lush bath bombs and artistically expressed his Lush fandom.
It's a Lush theme song of sorts and it celebrates all that is awesome about the brand's jelly bombs. "Your Body Is a Wonderland" may be one of Mayer's most famous tunes, but it's his tub that is truly wonderful these days.
The singer and guitarist tried the Intergalactic Bath Bomb for the first time on Feb 21. He admitted to being instantly hooked and that he finally "gets" the cult of Lush.
Beyond the initial Instagram praise, Mayer was also compelled to write a song about another product.
In his heartfelt ode to the Big Sleep Jelly Bomb, Mayer sang, "Jelly bombs excreting / All the things my body's needing / As I climb into the bath / Because my back just took a beating."
He first delivered the poignant lyrics, which encapsulate everything fellow Lushies experience, a capella while filming the blue bath treat as it fizzed and melted in the water.
But he wasn't done. Not. Even. Close. He then set the song to guitar.
Because that's what he does and because Lush products deserve a guitar serenade. Did you swoon upon listening to Mayer's bath bomb power ballad? Which take did you prefer?
John Mayer isn't immune to the gravitational pull of these bathroom luxuries. Therefore, a Reddit thread dedicated to Mayer's newly-minuted Lushie status exists.
The colorful swirl of the Intergalactic Bath Bomb has mystical powers.
Most Lushies have this same reaction to a fresh and inviting bath bomb.
Intergalactic Bath Bomb, $7.95, lushusa.com
The multi-colored but dominantly blue bomb likely won Mayer's affections due to its mix of refreshing peppermint, vetiver, and cedarwood.
Big Sleep Jelly Bomb, $8.95, lushusa.com
This lavender, neroli, and chamomile-infused product inspired the song. If you want to forge a cosmic connection with Mayer, you may wanna hit your local Lush boutique to try these two skin softening bath enhancers.
Clearly, Mayer skipped the crush-on-Lush phase and fast-tracked to "in love" status. Lush products don't just pamper the skin — they also inspire mad creativity.
Fellow Lushies rejoiced about Mayer's song on Twitter.
The catchy little ditty is indeed life. Are you dead now?
It's important to have shared interests, as the fan fic-themed tweet demonstrates. It's totally OK to have John Mayer fantasies.
Please, John, can we have some more? And by "more" we mean more Lush bath bomb-inspired tunes.
More like #legend.
Truth! Mayer's songwriting skills know no bounds. Whether he is writing tracks about his any of his past lady loves or about bath products, he makes it sound so damn good. Since much ado has been made over the years about his ex Taylor Swift penning a song about him, perhaps this bath bomb ode will inspire Swift to compose a tune about her fave red lipstick?! That would be pretty perfect.
Is an encore on the way? Most artists are crowd pleasers. Therefore, it's time for Lushies to start flooding his feed with requests.
Lush responded brilliantly with its own song for Mayer in an Instagram story posted Feb. 27. And, yes, the song did include a "Your Body Is A Wonderland" reference.
The brand also recommended a bath bomb to accompany his next tub serenade and referenced his lyrics. This is the start of quite a relationship.
John Mayer's song won the Internet, while a Lush bath bomb won his heart.