The Best Jokes About Russia's Olympic Ban Are Actually All About Trump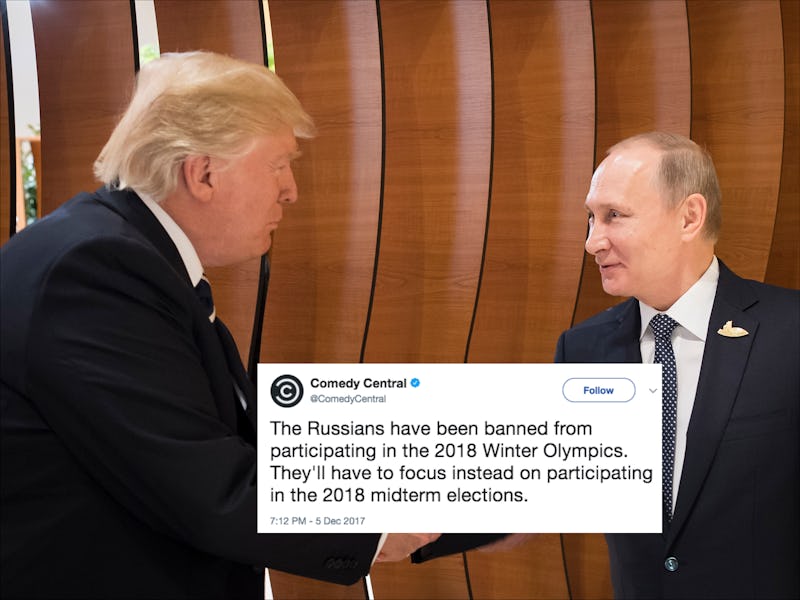 Russia may have been banned from the 2018 Winter Olympics, but we're no closer to agreeing that the country interfered in the last U.S. election — nor what to do about it. Following the IOC's decisive ban of the country from the upcoming Olympics in Pyeongchang, South Korea, many of the jokes about Russia's Olympic ban flooding Twitter used election interference as its punchline. "Now that Russia is banned from the 2018 Winter Olympics you think we can also ban them from the 2018 US Midterm Elections?" wrote filmmaker Jeremy Newberger.
Of course, there's nothing funny about a generation of Olympic athletes having their dreams squashed because they happen to live in Russia. Nor is there anything amusing about Russia's attempt to throw the election in Trump's favor, which was confirmed earlier this year by the FBI and the CIA. (Trump has refused to condemn or acknowledge Russia's election meddling.) There is an irony in action, however, when it comes to Russia being brutally punished for a systematic doping scheme — and hardly affected, at least thus far, by collusion between Russia and high-ranking administration officials.
Next year, both the United States and the IOC will see major tests: The Winter Olympics, for which sanctions have been determined to stop Russia from interfering, and the 2018 midterms, which are already shaping up to be a hard-fought battle for control of the House and Senate. Tensions are beginning to mount in regard to both.
A Focus On Participating
Gets The U.S. Of A.
Remaining Competitive
Back For 202
This Is How We're Treated?
Who To Cheer For?
Way More Secure
... Right?
Time To Shift Attention
Just A Thought
So Passé
This One Again
Friendship Festival
Vere Is Rink?
Not The Oval Office
OK, We Get It
Is the joke overdone? OK, a bit. Is it what we all need at this juncture in 2017? Yes.