It's Impossible To Look At Khloé Kardashian's Latest Photo Of Baby True & Not Smile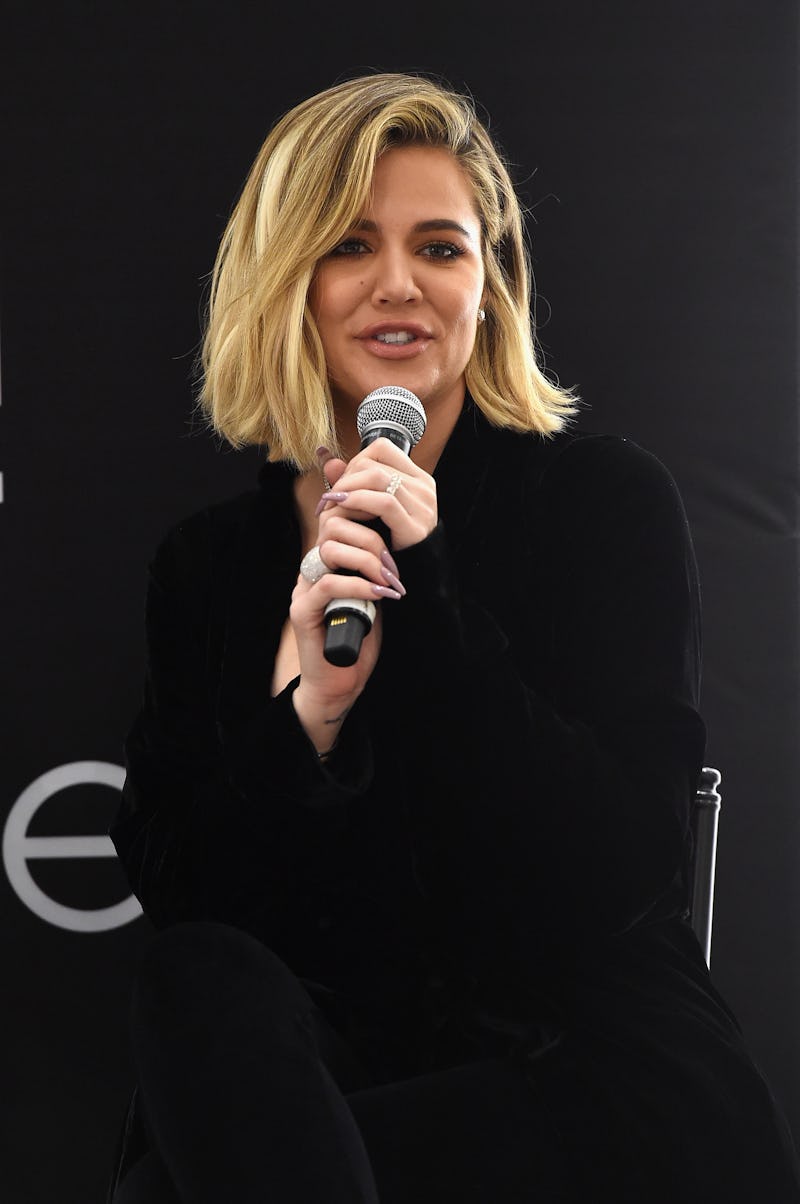 Jamie McCarthy/Getty Images Entertainment/Getty Images
Ever since Khloé Kardashian welcomed her daughter True Thompson, the world has gotten an increased dose of cuteness. That's just an undeniable fact. And Khloé Kardashian's latest photo of a smiling True is sure to help brighten up your day.
On Tuesday, the Revenge Body host posted what may just be the cutest snap of her daughter yet. The photo featured True sitting down and giving her mom the biggest smile for the camera. She's even putting on her best Cardi B once again with her tongue sticking out in the pic. Kardashian captioned the Instagram post with some musical note emojis and, "You are my sunshine! My only sunshine." Leave it to Kardashian and True to make your day that much brighter.
That wasn't the only photo of her daughter that she showed off on social media, though. On her Instagram Story, the reality star shared that she was "on set for something" and that the production decked out her dressing room in the most fabulous way. As seen in her video, her room was decorated with crystals, candles, and, most importantly, framed photos of baby True. One of the photos actually doubled as a puzzle, which is not only cute but also incredibly creative. Based on her glowing reaction to the decorations, it's safe to say that the room was totally fit for Queen Koko.
Of course, these aren't the only times that Kardashian has shared some adorable photos of her daughter with her many followers. On Sept. 6, the Keeping Up With the Kardashians star posted a photo on Instagram of her tropical getaway. In the snap, Kardashian posed alongside her mom, Kris Jenner, and baby True, with all of the crew having some fun with their smiles for the camera. As she explained in her caption, they were, "Trying to do our best Cardi B." In case you didn't know, the pose is pretty much the rapper's signature pose by now. And the three all channeled the "Bodak Yellow" singer perfectly.
Kardashian also posted a smiley photo of her daughter in early August, along with the sweetest caption ever. Her little one was super glam in an all-gold ensemble, complete with the tiniest tiara. The 34-year-old wrote, "You don't know this yet but you're my best friend for all eternity!" Seriously, is there anything sweeter than Kardashian's post? (Spoiler alert: Probably not.)
In the months following True's birth, Kardashian has posted so many impossibly cute photos of her baby girl aside from the ones already mentioned. Whether it was a pic of her youngster getting her yawn on or even a photo of her posing with her new baby Bentley, courtesy of Kimora Lee Simmons, the reality star has seriously posted some truly adorable snaps of her little one, which is undoubtedly a joy for fans. And with her most recent post, featuring the brightest smile ever, Kardashian and baby True, of course, may have just outdone themselves in the cuteness department.