This Couple Could Be Leaving 'Love Island' Tonight But Twitter Has A Plan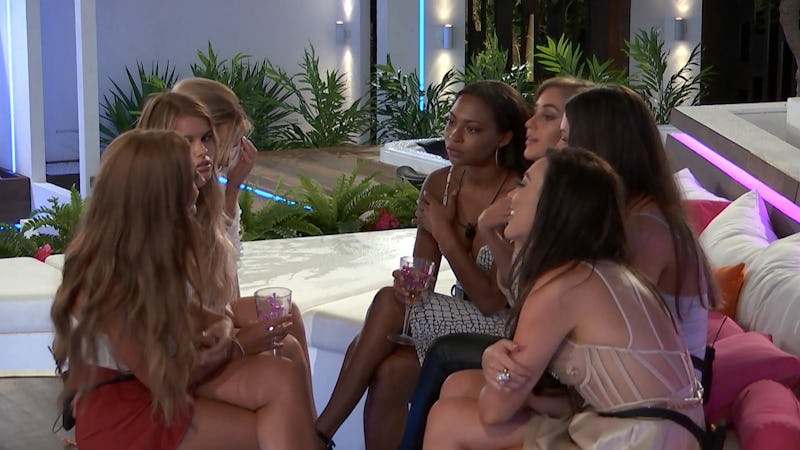 Love Island/ITV
Following the departure of two separate singletons, Love Island will finally say goodbye to its first couple on Friday night. During Thursday's episode, the villa's seven couples were asked to vote for the two pairings they felt were least compatible, knowing that whoever received the most votes would be at risk of leaving the villa. Turns out Love Island's Alex and Samira ended up at risk, and Twitter is not happy.
The villa's strictly friend-zoned couple Alex George and Samira Mighty received the most votes and will be going head-to-head with Hayley Hughes and Charlie Frederick in the public vote. Turning to Alex after the results were confirmed, Samira admitted that she felt "vulnerable" because they are just pals and added that this cost them their place in the villa. Oh, if only she knew what was being said in the outside world.
Twitter is absolutely furious that the Samira and Alex could be eliminated. So much so that some are even trying to launch a petition. Meanwhile, others aren't so happy that Eyal has managed to avoid facing the public vote after how he's behaved towards Alex. I mean seriously, just check out the reaction online. It's intense.
Trust me, I don't want Alex and Samira to go either. Luckily, it doesn't look as though that's going to happen. Despite being just friends, they are currently one of the favourites to win the competition, along with Dani Dyer and Jack Fincham. Judging by the reaction on Twitter, the Internet seems pretty confident the Love Island villa will be saying goodbye to Hayley and Charlie come Friday instead.
But, are viewers right? Probably. While Samira has been keeping a low profile in the Love Island villa thus far, Alex is currently at the centre of a pretty heated love triangle with Megan Barton Hanson and Eyal Booker, winning the affections of viewers as he tries — and continuously fails — to find love. Whoever is running Alex's Instagram account while he is on Love Island, is also winning over a lot of fans, so I doubt viewers are quite prepared for Alex to leave the villa and resume control over his own social media quite yet.
Another reason many suspect Alex and Samira are safe is the fact that Hayley has since been proper busy telling her fellow Islanders how she isn't really that interested in Charlie anymore, which is unbelievably bad timing all things considered. Especially for Charlie, who seems like he is genuinely trying to make a go of things.
"I don't know where my head's at again," Hayley told the girls in the villa. "It's annoying me because I feel like I'm being dead fussy. But neither do I just want to rush something with someone… At the end of the day, if I've got some element of doubt in it I'm not going to put everything into that one person. That's not saying that I'm ruling him out getting to know him, as I am in a couple."
Charlie, on the other hand, has made it crystal clear that he feels very differently. "I do want to get to know her more," he admitted. "But I feel as if she's being a bit muggy to me. I feel it's all coming from me. I compliment that girl every day, every time there's a group conversation, I go and sit with her. I've not had her once come up to me and hug me or kiss me." Pretty sure that's her prerogative, Charlie, and complementing a girl doesn't entitle you to hugs and kisses.
So, who will go? Viewers are pretty confident it will be Hayley and Charlie, but only time will tell for certain.
Love Island airs on ITV2, Sunday to Friday at 9 p.m.