Maxine Waters Finally Responds To The SOTU & It's Just As Fiery As You Expected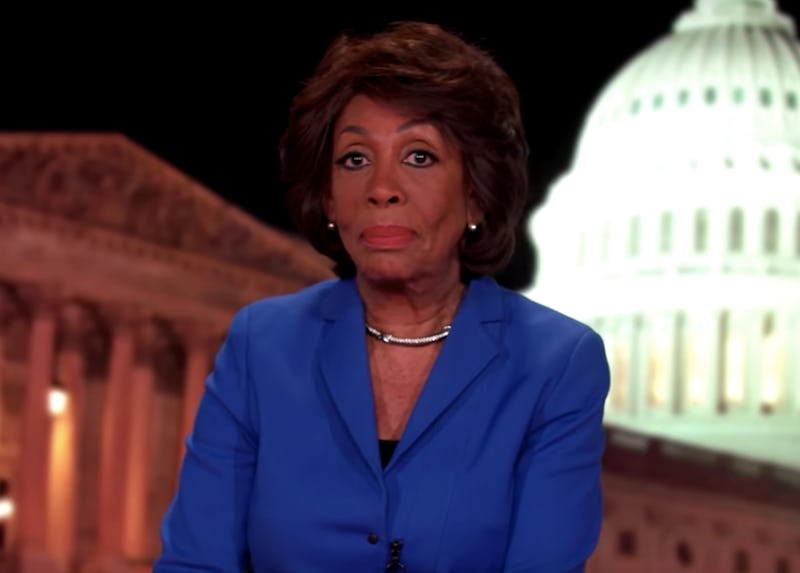 BET
During his first-ever State of the Union address on Tuesday night, Donald Trump called on Americans to set aside their differences and come together. California Rep. Maxine Waters was appalled that such a demand could be made by Trump, who has spent his time in office trying to stir up anti-Muslim and anti-immigrant fervor. So on Wednesday night, Waters gave a response to Trump's SOTU address, going so far as to suggest that "there should be a disclaimer that says 'this may not be acceptable for children'" when Trump makes televised appearances.
Waters delivered her response on BET's Angela Rye's State of the Union after boycotting Trump's Tuesday night address. During her response, Waters described Trump as a "dangerous, unprincipled, divisive and shameful racist," pointing to his categorization of Mexican immigrants as "rapists," his multiple attempts to impose a travel ban on Muslim-majority countries, his criticism of black NFL players who took a knee during the national anthem, and his poor response to a white nationalist rally in Charlottesville as evidence.
Trump often works to convince dissatisfied elements in our society that all of their problems are caused by people of color. He stokes racial animosity by referring to black NFL players as sons of bitches and demonizing immigrants from Haiti and Africa.
This president, with his vulgarity and his disrespect for women and people of color, is a terrible role model for our children.
In addition to criticizing Trump's domestic policy, Waters slammed Trump's handling of international affairs. She criticized him for disrespecting American allies while "showing admiration for dictator Vladimir Putin, despite the fact that Russia interfered with our election and undermined our democracy." And she didn't stop there, either — Waters also expressed frustration with Trump's "inept trade policies."
But part way through her speech, Waters clarified that she wasn't just responding to Trump's SOTU address. Instead, she said, she was responding to his presidency as a whole, and warned the American people that Trump is not fit to be president.
"He has no understanding of true leadership," Waters argued.
However, although Trump took credit for a number of former President Barack Obama's accomplishments, Waters pointed out that he is not the only one who merits criticism. She lashed out at Republicans in Congress — namely Senate Majority Leader Mitch McConnell and Speaker of the House Paul Ryan — for enabling Trump's actions rather than doing the responsible thing and confronting the president.
Waters suggested that Republicans in Congress were doing a disservice to their constituents and all Americans by refusing to call out Trump's actions — actions that Waters insisted are not sustainable.
"Increasingly, millions of Americans have recognized that Donald Trump is detrimental to our nation," Waters said. "We deserve better. That's why I have called for his impeachment."
Indeed, this was not Waters' first call for Trump's impeachment. As early as September, Waters called for Trump's impeachment at a Congressional Black Caucus town hall meeting. In October, she explained that a statement she made at an LGBT youth gala about wanting to "take Trump out" was about impeachment. In November, she wrote an op-ed for the Los Angeles Times in which she asserted that "Congress will have no choice but to impeach this president" following the Russia investigation, Trump's provocations of North Korea, his decision to pull the U.S. out of the Paris Climate Agreement, and other harmful policies.
And even more recently, Waters reiterated this call just last month after Trump reportedly referred to Haiti and African countries as "sh*tholes." Waters has been outspoken in her criticism of the Trump administration throughout the first year of his presidency, and as she made clear during her response to Trump's SOTU address, she has no plans to stop pursuing his impeachment.