Meghan Markle, Duchess Of Sussex, Hasn't Actually Visited Sussex Yet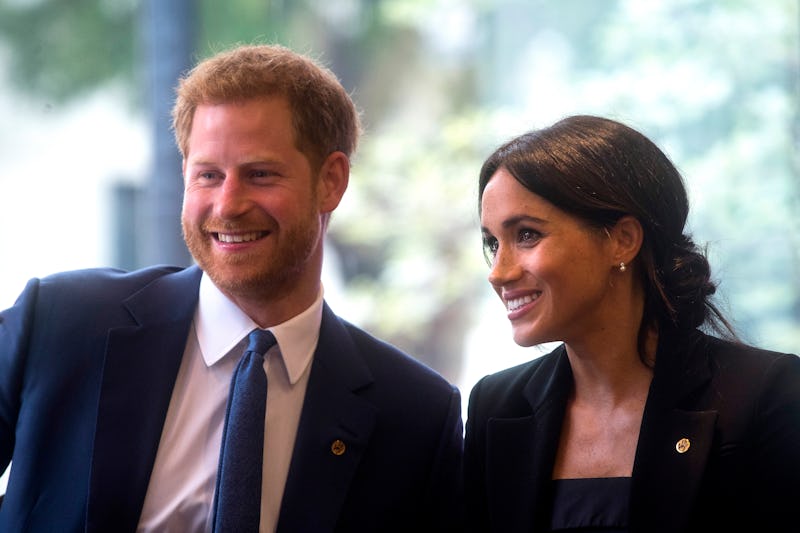 WPA Pool/Getty Images Entertainment/Getty Images
They might be the Duke and Duchess of Sussex, but Prince Harry and Meghan Markle haven't visited Sussex yet. Rude. That's about to change, though, because Harry and Markle have plans to visit their dukedom on Wednesday, October 3, as reported by InStyle.
Kensington Palace tweeted the news on Thursday, along with what the couple has planned:
The Duke and Duchess of Sussex will make their first official visit to Sussex on 3rd October. In West Sussex they will see the historic Sussex Declaration & open @chiuni Tech Park. In East Sussex they will visit the Royal Pavilion, @SurvivorsnetBtn & Peacehaven Youth Centre.
That's a full schedule, so lets get into what this stuff really means. First up, the Sussex Declaration, which is actually the Declaration of Independence. (Yes, that Declaration of Independence — the U.S. one.) It is one of only two handwritten parchment copies; the other one being the one kept at the National Archives in D.C.
"Chiuni" is the University of Chichester. The school's new Tech Park is part of its Bognor Regis campus, which is located on the water along England's southern coast. As an American, it's pretty hard to imagine royals coming to your college just because its opening a new addition, but this must be pretty cool for any Harry and Markle fans who go to the University of Chichester.
Over in East Sussex, the Royal Pavilion is a palace in Brighton that was built for King George IV. Nowadays, visitors can tour the building and estate and view the galleries it houses.
Survivor's Network is a "charity that aims to reduce sexual violence and its impact on survivors' lives." This seems like a good fit — in addition to being an important choice — for the couple since they have both used their platforms to speak out in support of women, specifically.
Lastly, Markle and Harry will visit the Peacehaven Youth Centre. This one is pretty self-explanatory, and the center apparently hosts some very cute children's soccer teams.
While Markle and Harry are the Duke and Duchess of Sussex, having a dukedom doesn't mean quite as much as it once did, and these two don't have political power. Instead, titles like duke are usually given by the Queen to a member of her family on their wedding day. Dukedoms can also produce income for the royal family, notably in the case of the Duchy of Lancaster and the Duchy of Cornwall.
It may have taken Harry and Markle a few months after their wedding to actually head to Sussex, but their schedules are planned out pretty far in advance and they usually have quite a bit going on. Since getting married, they've visited Ireland, launched a cookbook, participated in a polo match, attended Wimbledon, and saw Hamilton in support for Harry's charity, among numerous other outings.
And things don't slow down after the Sussex visit. From October 16 to October 31, Markle and Harry will go on tour in Oceania and visit Australia, New Zealand, Tonga, and Fiji.
For now, though, they're going to Sussex. So, if you're a fan of seeing Markle and Harry support worthy causes, look over really old documents, and hang out with kids, then keep your eyes out next week.