Mike Pence Walking Out Of An NFL Game Cost Taxpayers A Pretty Penny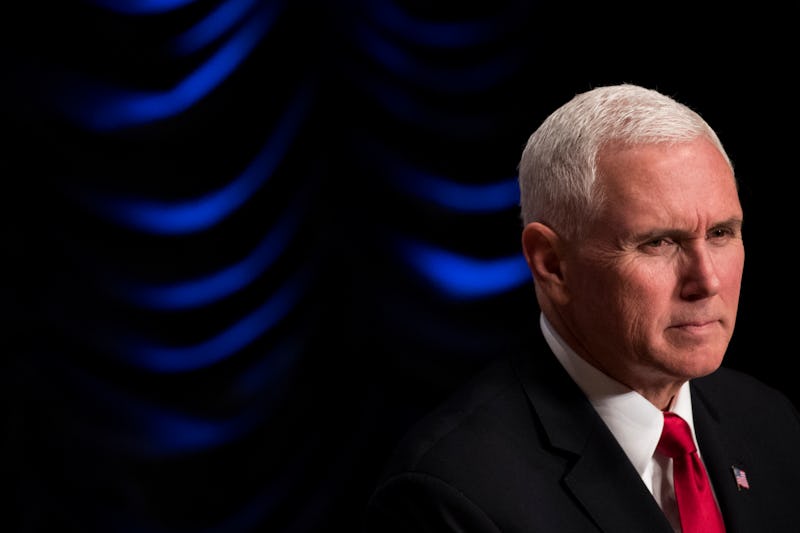 Drew Angerer/Getty Images News/Getty Images
When Vice President Mike Pence walked out of a 49ers-Colts game last year before kickoff as part of a political stunt designed by the president, it wasn't hard to guess that it had been an expensive trip. But documents recently obtained by New York City transportation reporter Aaron W. Gordon and published by HuffPost show Pence's NFL stint came with a hefty price tag for taxpayers.
According to HuffPost, Secret Service receipts for travel, hotel, and additional security expenses for the trip totaled more than $75,000. That included a $64,637.88 bill for hotel rooms, a $8,877.91 bill marked "LRC Air/Rail Detail Report by Project Code," which HuffPost presumed to be for travel expenses, and a $2,368 bill for temporary walkways in downtown Indianapolis.
But the cost of Pence's short-lived NFL trip doesn't end there. Documents obtained from the Department of Homeland Security via a Freedom of Information Act request Gordon filed last year placed the total cost of the trip at at least $325,000, HuffPost reports. That total cost includes an estimated $250,000 flight bill for Air Force Two, which The Washington Post has reported costs roughly $43,000 an hour to operate.
But according to HuffPo, $325,000 is likely just the beginning of what it really cost for Pence not to watch an NFL game as the Secret Service receipts reportedly did not include cost breakdowns for the local law enforcement, additional ambulance, and extra hospital trauma teams needed on standby.
But while Pence's team has previously claimed that his trip to the Colts game had been planned "for weeks" — the vice president reportedly wanted to be present for a ceremony retiring former Colts quarterback Peyton Manning's number — the documents show the temporary walkways weren't ordered until the Friday before the game and a lodging addendum wasn't signed until three days before kickoff, the HuffPost reported.
At the time, President Donald Trump said he'd instructed his vice president to leave the game if any of the players kneeled out of protest during the National Anthem. Pence later confirmed that he'd left the game early after some players opted not to stand for the National Anthem.
"I left today's Colts game because President Trump and I will not dignify any event that disrespects our soldiers, our Flag, or our National Anthem," he said in a statement released by the White House last year. "While everyone is entitled to their own opinions, I don't think it's too much to ask NFL players to respect the Flag and our National Anthem. I stand with President Trump, I stand with our soldiers, and I will always stand for our Flag and our National Anthem."
One thing Pence — or taxpayers — reportedly didn't have to pay for as part of the trip were the actual game tickets. According to USA Today, a 2017 financial disclosure from Pence noted the vice president was gifted two tickets — valued at $774 — to the 49ers-Colts game by oil tycoon Forrest Lucas. No word on whether or not Lucas was miffed that Pence didn't stick around for the actual game.