This Twitter Exchange With Mindy Kaling, Chrissy Teigen, & The 'Queer Eye' Cast Is EVERYTHING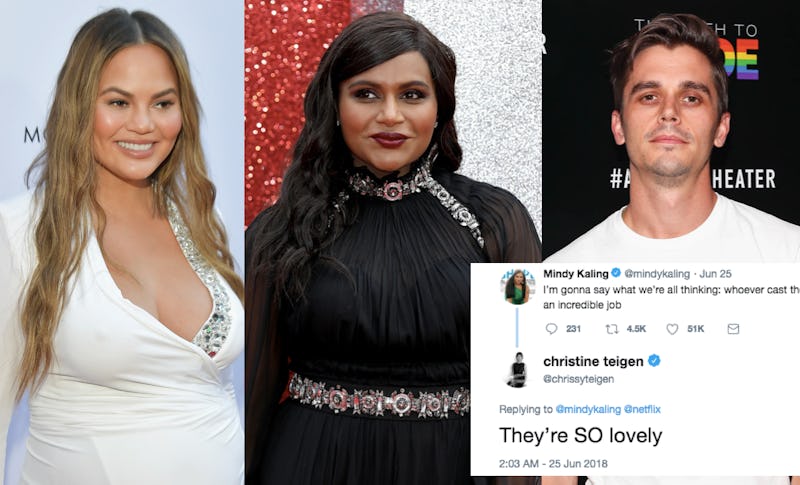 Neilson Barnard/Getty Images Entertainment/Getty Images; Tim P. Whitby/Getty Images Entertainment/Getty Images; Astrid Stawiarz/Getty Images Entertainment/Getty Images; Mindy Kaling, Chrissy Teigen/Twitter
There's a good chance that you've already had a marathon of Queer Eye's second season, which dropped on June 15. In case you did and want to see more of the Fab Five (who doesn't?), you may just want to head over to Twitter. Mindy Kaling, Chrissy Teigen, and Antoni Porowski from Queer Eye got into the most amazing Twitter exchange, as BuzzFeed noted, and it's actually the collaboration that you never knew you needed.
It all started when Kaling tweeted about her love of the show's cast. She wrote, "I'm gonna say what we're all thinking: whoever cast the @netflix #queereye did an incredible job." As any Queer Eye fan knows, she's definitely not wrong on that front. The cast is simply everything.
Her tweet got the attention of fellow celeb fan, Teigen, who replied with some sound agreement of Kaling's assessment. "They're SO lovely," she replied. Then, the Ocean's 8 star revealed that she has an ideal scenario for her own dream Queer Eye makeover, which mainly sees her seeking help from Porowski and Jonathan Van Ness.
She wants Van Ness to "help me find my inner diva with new bob," and for the chef extraordinaire to "transform my self worth with a gnocchi recipe." While he's all about the easy appetizers and avocado toast on the show, you just know that Porowski has a killer gnocchi recipe in his arsenal.
Indeed, the chef is totally down to hang out with Kaling and Teigen, as he replied to both famous women on June 25. He said that as long as the Lip Sync Battle co-host "brings dessert," he's down for a "cooking demo" of his undoubtedly delicious pasta recipe. While Teigen has yet to respond to his offer (Kaling did like his tweet, showing that she's all in), but given that she's a big fan of the series and its cast, there's no way she'd turn down the chance to hang with Porowski and Kaling, right?
In addition to Porowski, another member of the Fab Five was also loving everything about Kaling and Teigen's Queer Eye appreciation. Van Ness tweeted in response to both woman, and it's safe to say that he was more than thrilled to see their love of the show. Their exchange was so awesome, in fact, that it was almost too much for him. He wrote, "I cantttt, love you so much." Maybe he can join in on that "cooking demo" and they can just make it a whole Fab Five hangout with everyone? Honestly, no one would object to such an all-star collab.
While Kaling has recently shared her Queer Eye love on social media, this isn't the first time that Teigen has done so. Back in March, the model was all about the Netflix series and made that known on Twitter. On March 15, she revealed, "yes I just followed all the queer eye guys."
Every single one of the Fab Five took to Twitter to share their excitement over their new follower and fan. Van Ness shared a hilarious Queer Eye GIF and said that he was "freaking out" with his mom about the follow, which is a totally relatable reaction. Karamo Brown tweeted that she was "everything" and congratulated her on the newest addition to her family (baby Miles, who was born in May). Porowski even sought some assistance on what to say to any trolls, which surprised Teigen, who didn't believe he would have any haters. Maybe they can talk about this more when they have their fun "cooking demo" meet-up?
Even if any kind of meet-up or makeover doesn't happen, as they referenced throughout their exchange, at least fans will always have this amazing Twitter convo with Kaling, Teigen, and the Queer Eye cast.