15 Women Have Accused A Federal Judge Of Sexual Misconduct & The Details Are Horrific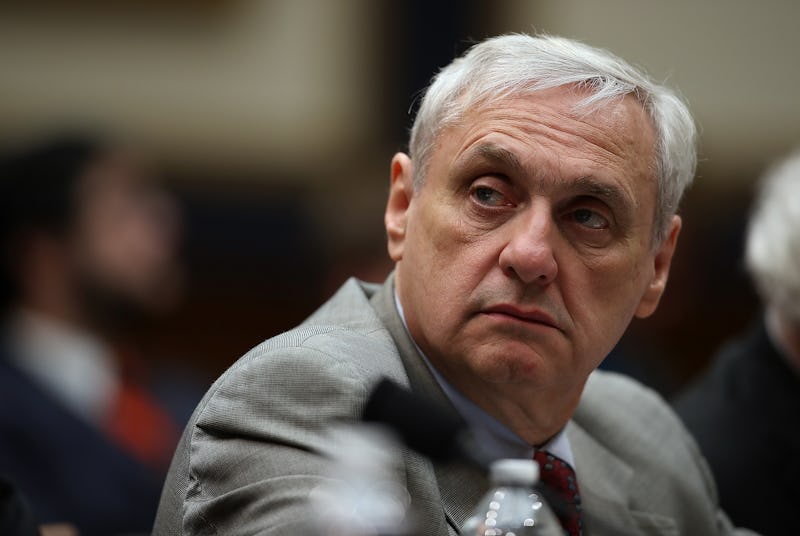 Justin Sullivan/Getty Images News/Getty Images
The U.S. Court of Appeals for the 9th Circuit is the latest institution to be rocked by a recent flood of sexual misconduct allegations. On Friday, The Washington Post reported that nine more women have accused Judge Alex Kozinski of sexual misconduct, after its report earlier this month detailing the accounts of six women who alleged he "subjected them to a range of inappropriate sexual conduct or comments" over decades. In a statement to the Post, Kozinski said: "Many of the things that are being said about me are simply not true, but I deeply regret that my unusual sense of humor caused offense or made anyone uncomfortable. I have always treated my male and female law clerks the same."
Some of the behavior Kozinki's former employees have detailed include a former clerk who alleged that he showed her porn multiple times on his computer and that he allegedly encouraged another clerk to work out naked in front of multiple people. One law professor told the Post that Kozinski pinched her at a dinner event and told guests they would be "happy to know it still works" after joking that he had just had sex with his wife. The Post also reported that a former judge alleged Kozinski squeezed her breasts when they were in a car, "after she had told him she did not want to stop at a motel and have sex." Kozinski has denied all the allegations. When the Post published its initial report on Dec. 8, he told the newspaper, "If this is all they are able to dredge up after 35 years, I am not too worried."
The chief judge of the federal appeals court where Kozinski serves, has launched an investigation, but the judge has not yet been kicked off the bench.
Since the Post's initial report, more women have come forward alleging similar experiences with Kozinski. Joanna Grossman, a law professor at Southern Methodist University, tweeted that Kozinski's "disrespect for women is legendary." Dara Purvis, an associate professor at Penn State Law, tweeted that when she worked in the same building as Kozinski's chambers she was warned, "explicitly and repeatedly, about his behavior by other clerks."
In an essay for Slate, Dahlia Lithwick alleged that Kozinski sexually harassed her while she was clerking for the 9th U.S. Circuit Court of Appeals in the '90s. She told the judge she was clerking for, but it didn't go anywhere. As Lithwick wrote, this was an era when relationships "between law clerks and their judges [were] mostly built on worshipful silence."
New York Times Magazine staff writer Emily Bazelon wrote that she herself had seen and felt this alleged behavior from Kozinski, noting that it has brought up a "gross and complicated dynamic" over the years.
The allegations have raised questions within the legal community about how such behavior should be addressed, particularly when it concerns lifetime judgeships, which are more protected than jobs in most other industries. As legal website Above The Law pointed out, the Constitution affords judges like Kozinski lifetime tenure. He might be pressured to retire by colleagues, or, in an even more unlikely scenario, he could be impeached.
In an op-ed published on Thursday, the New York Times editorial board called for Kozinski's impeachment, writing that although it's rare, it would provide an opportunity for the Ninth Circuit Court of Appeals to show that it can "meaningfully address unacceptable behavior in its ranks."
As of Thursday, Kozinski faces a formal misconduct inquiry, which was opened by Sidney Thomas, chief judge of the Ninth Circuit. As the investigation proceeds, those who wish to see Kozinski unseated may face an uphill battle. As Lithwick noted in her essay, Kozinski is a rare voice on the 9th Circuit, and "if he is to be replaced, it will likely be with a 35-year-old Trump pick who diminishes women systemically, if not recreationally."
At the very least, the fact that so many women broke their silence about Kozinski may encourage others in the legal profession to do the same in the future.