The Nutella Cafe Is Now A Thing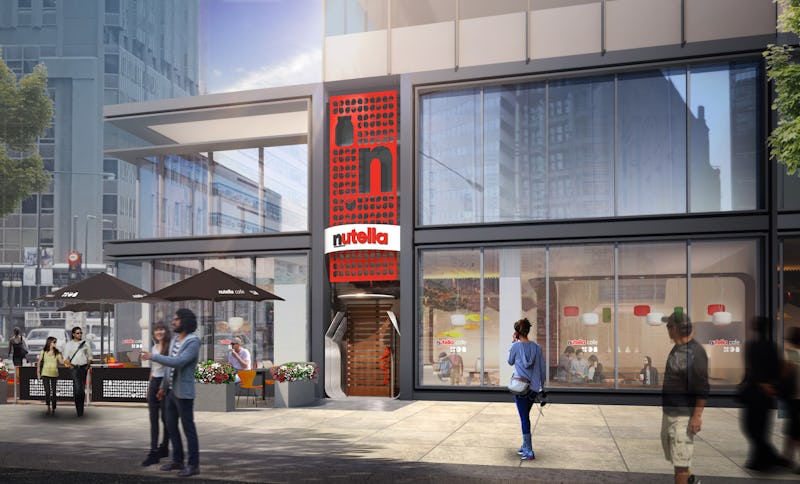 Nutella
If you love Nutella — and let's face it, who doesn't? — you can now get your fix without searching for that giant jar of Nutella you know you bought last time you went grocery shopping: Nutella is opening a cafe in Chicago on May 31. Nutella, a hazelnut, cocoa, and sugar delight, was created in Italy in 1946, and has since enveloped the whole world in a creamy, delicious hug. It even got its own day when Feb. 5 was officially declared World Nutella Day in 2007.
The Nutella Cafe, which will be located at 151 N. Michigan Ave. in Chicago, will serve your beloved Nutella, as well as other deletable bites like soups, sandwiches, and salads, and of course, coffee. The cafe is designed to to truly bring you inside the Nutella experience.
"It's designed to make you feel like you're actually walking into a jar of Nutella," Angela Baird, the director of operations at Brand Innovation Group, who consulted with Ferrero USA, Nutella's parent company on creating the space, told the Chicago Tribune. "Everything screams 'Nutella.'"
The newspaper described the cafe as sporting "warm creamy white color on the walls," which is complemented by the "dripping Nutella-colored embellishments on the ceiling, accented by hanging lights in the shape of flowers of the hazelnut plant."
If that's not enough, the Nutella website reported that people love this hazelnut treat so much that you could circle the world 1.8 times with the amount of Nutella produced in one year. If your mouth is watering, here's a sneak peek at some of the sweet treats that will be available at the Nutella Cafe.
Must-Try Nutella Cafe Creations
Affogato
Fior di Latte drizzled with Nutella, served with a warm espresso shotto pour on top.
Crêpes
Choose from Nutella; Banana and Nutella; Strawberries and Nutella; or Lemon Curd and Seasonal Berries. You can add more Nutella, fresh fruit, gelato, and whipped cream.
Seasonal Fruit Crostata
An open-faced, rustic pie filled with seasonal fruit (apple pictured above), topped with Nutella and toasted hazelnuts.
Grilled Baguette
Crisped to perfection, spread with Nutella and sprinkled with toasted hazelnuts.
Fun Nutella Facts
While you're waiting in anticipation for the Nutella Cafe to open, here are some more fun Nutella facts to tide you over in the meantime.
You could cover the Great Wall of China eight times with the number of jars of Nutella sold worldwide in a year.
There are so many jars of Nutella made each year, that they would line the banks of the Danube 26 times over. That's a river so long, it flows through 10 different countries!
The amount of Nutella produced in one year weighs the same as the Empire State Building.
I'm getting kind of hungry — BRB, I need to go get myself some Nutella. Because, yum!