Obama Is Receiving A Robert F. Kennedy Human Rights Award & It's A Pretty Big Deal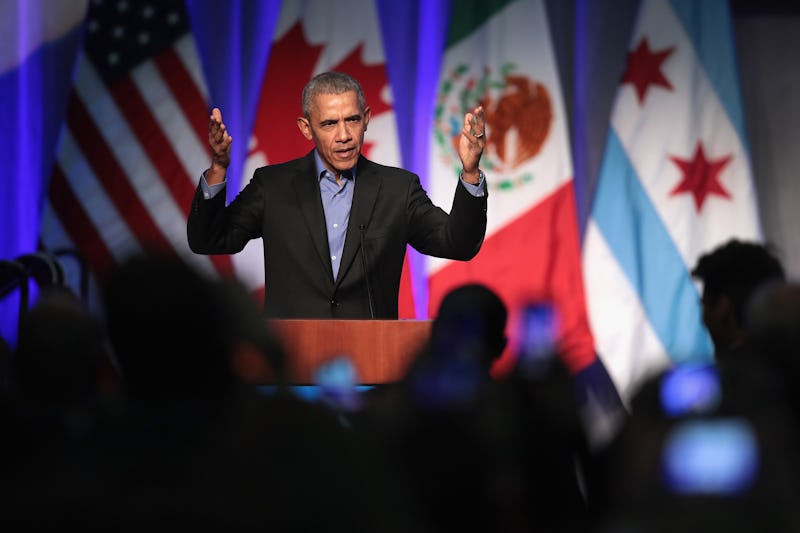 Scott Olson/Getty Images News/Getty Images
The 44th president of the United States may be done with his time in office, but the spotlight is still aimed squarely at him on the global stage. A prominent nonprofit human rights advocacy organization has announced its 2018 Ripple of Hope laureates, and on the list of those to receive the Robert F. Kennedy Human Rights award is Barack Obama.
The award honors global leaders for extraordinary work toward "a more just and peaceful world," according to Robert F. Kennedy Human Right's press release. The awards presentation will take place during the annual Ripple of Hope Gala in New York City in December later this year.
"Bobby Kennedy was one of my heroes," said President Obama in RFK Human Rights' news release. "I first got into public service because I wanted to be a part of something bigger than myself, believing that my own salvation was bound up with the salvation of others. That's something he expressed far better than I ever could when he talked about the power that comes from acting on our ideals, those ripples of hope that can 'sweep down the mightiest walls of oppression and resistance.'
"That's what I'm determined to help inspire and cultivate over the rest of my career – the idea that anybody can be one of the millions of acts of conscience and voices raised against injustice, the idea that anybody can be one of the 'million different centers of energy and daring' who, like Bobby Kennedy, have always changed the world for the better."
Obama will be honored along with three other selected laureates: Discovery President and CEO David Zaslav, New Jersey Governor Phil Murphy, and Humana CEO Bruce D. Broussard.
"My father believed; 'Each time a man stands up for an ideal, or acts to improve the lot of others, or strikes out against injustice, he sends forth a tiny ripple of hope," said Robert F. Kennedy Human Rights President Kerry Kennedy in the release. "On the 50th anniversary of his historic campaign for the White House, we honor laureates who have sent forth countless ripples of hope to millions of people inspired by their example."
In a retweet on Monday, Obama wrote that Bobby Kennedy was one of his heroes. Bobby Kennedy was John F. Jennedy's younger brother and according to the JFK Library and Museum, had built a proven record of advancing human rights. He traveled to Europe, Latin America, and South Africa to share his conviction that "all people have a basic human right to participate in the political decisions that affect their lives and to criticize their government without fear of reprisal." Kennedy served as a New York senator before mounting his candidacy for the Democratic presidential nomination in 1968. However, just as he began to see success in primaries across the nation, he was assassinated.
Obama's induction into Robert F. Kennedy Human Rights' hallowed halls follows past laureates — many of whom are high-profile political figures and celebrities — who have been active in human rights and international aid work. The former president will be joining a rarefied group of Ripple of Hope laureates that includes Hillary Clinton, Archbishop Desmond Tutu, Bill Clinton, Bono, George Clooney, Joe Biden, Tim Cook, Tony Bennett, and Robert De Niro.