This Old Clip Of Ivanka Talking About Her Dad's Mountain Of Debt Is Eyebrow-Raising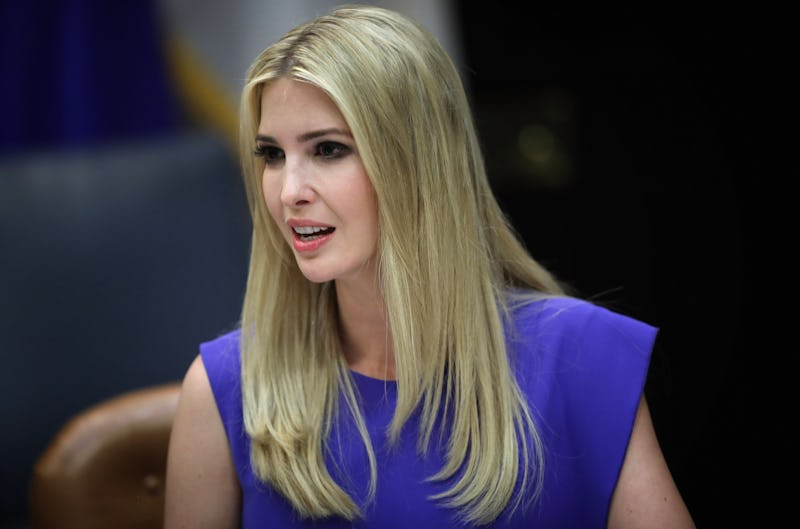 Win McNamee/Getty Images News/Getty Images
This week, the New York Times published a bombshell report claiming that President Trump's businesses lost hundreds of millions of dollars in the 1980s and '90s. Now, a video from an unexpected source is bringing even more attention to the president's past business dealings. This clip of Ivanka Trump discussing her father's debt reveals that the president certainly wasn't shy about sharing the realities of his business losses with his daughter.
The aforementioned video comes from the 2003 documentary, Born Rich, which highlighted the experiences of children who grew up in wealthy families. Full Frontal host Samantha Bee aired the Born Rich clip during her show on Wednesday night. After jokingly questioning whether President Trump was just "pretending to lose all that money," Bee said that her next "witness," Ivanka, revealed that the business losses very much reflected a harsh reality for Trump.
Bee then played the documentary clip, in which Ivanka said her father once compared himself to a homeless man to illustrate the extreme level of debt he faced. As Ivanka described in the video:
I remember once my father and I were walking down Fifth Avenue and there was a homeless person sitting right outside of Trump Tower and I remember my father pointing to him and saying, "You know, that guy has $8 billion more than me," because he was in such extreme debt at that point, you know?
After sharing the clip, Bee joked, "And that is why it was OK for him to take that man's change cup." She also added, "Look, the only thing that Donald Trump really had going for him as a [presidential] candidate was that he was supposed to be a great businessman. Now we know that not only is he a bad businessman, he is one of the worst in American history."
The New York Times' May 8 report revealed that printouts from Trump's Internal Revenue Service tax transcripts show that the president lost millions of dollars per year from 1985 to 1994, for a total of $1.17 billion in losses. The paper noted that these losses mean that Trump likely lost more money than almost any other American each year during that time period. In fact, investigative journalist David Cay Johnston said on MSNBC on May 8 that "[during] one of the years in question, Trump accounted for nearly two cents out of every dollar of business loss reported in the entire United States … That's the really astonishing number."
Trump responded to the Times' investigation on Twitter by suggesting that tax returns showing such massive losses represented standard practice during the 1980s and '90s. As the president wrote:
Real estate developers in the 1980's & 1990's ... were entitled to massive write offs and depreciation which would, if one was actively building, show losses and tax losses in almost all cases ... You always wanted to show losses for tax purposes....almost all real estate developers did - and often re-negotiate with banks, it was sport. Additionally, the very old information put out is a highly inaccurate Fake News hit job!
Overall, as news of Trump's former business losses continues to make headlines, it's perhaps a bit ironic that an old video of his daughter sharing an anecdote about his debt is serving to further highlight its scale. It remains to be seen whether Trump or Ivanka will comment further on the matter.