TSoul Went Soulful During Knockouts On 'The Voice'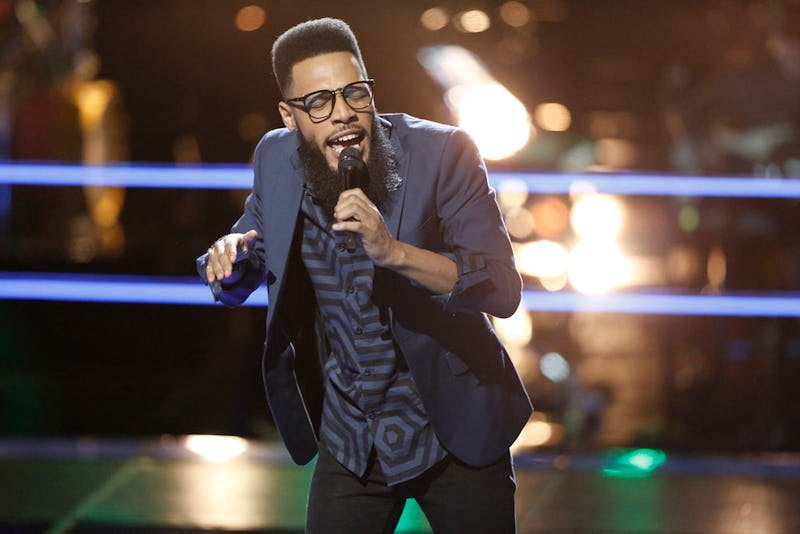 Tyler Golden/NBC
Well, Tuesday night's episode of The Voice delivered all the feels and I'm not sure I'm going to be okay come Wednesday morning. The feels parade began with TSoul's Knockout performance and The Voice coaches reactions — all incredibly positive — to said performance. TSoul's performance became one of a handful during Tuesday night's Knockouts episode that was steeped in some deeper emotions. Past the song, past the intensity of the competition, TSoul was able to channel something bigger onstage that let him showcase new sides of his voice: the memories of his grandmother.
TSoul's emotional connection to his Knockouts song, "These Arms Of Mine" by Otis Redding, came out as soon as he finished singing. After watching Knockouts teammate and competitor Enid Ortiz sing a near-perfect rendition of Adele's "When We Were Young" the first time around, TSoul knew his work was cut out for him. His choice of song was perfect, something confirmed earlier by coach Blake Shelton's assessment that TSoul is one of the top R&B/soul singers on the show, but he had to whip out something real in rehearsals to match Enid. That appeared to be just as easily said as it was done; his first round of singing the song in rehearsal left him choked up and getting truthful with Shelton during notes.
It came out that TSoul was getting emotional because the song reminded him of visiting his grandmother's house as a child. Add to this emergence of a memory the reveal that his Knockouts rehearsal was on the same day as this now-deceased grandmother's birthday and guys, it's like all the feels came rushing out. There's no denying that this performance was going to bring the realness.
Shelton's cautioned TSoul to not let that emotion overpower his technical work in the song, however beneficial it was to channel it. When the time came, TSoul sang his actual damn heart out. At certain points, the vibrato in his voice actually made him sound like Redding. The entire performance was a thing of beauty, but the reasons for it being so beautiful make the performance — and TSoul's subsequent Knockouts win — that much sweeter.