Listen To Every Word Of Oprah's Incredible Speech About Voting In The Midterms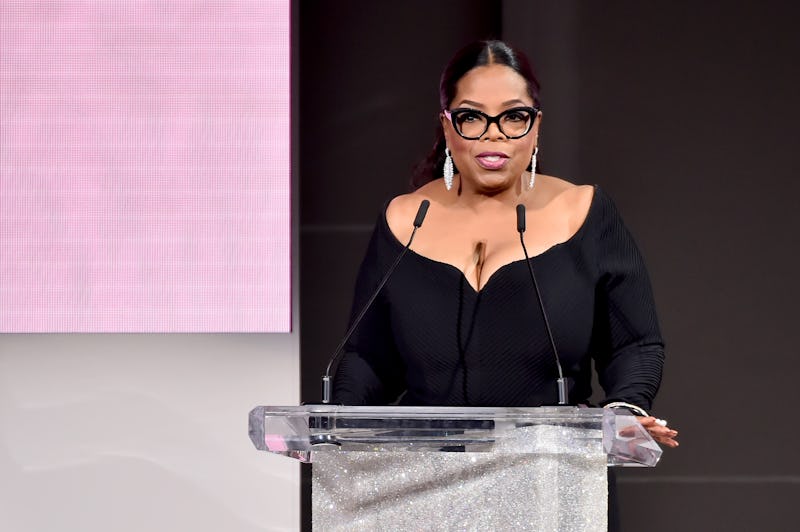 Theo Wargo/Getty Images Entertainment/Getty Images
Georgia Democrat Stacey Abrams is running to become the country's first black female governor — and Oprah Winfrey is trying to help her do it. On Thursday, Winfrey started stumping for Abrams during several campaign stops in Georgia. During an appearance in Marietta, Winfrey told the crowd that they were "on the precipice of a historic election," and urged people to vote in order to honor their ancestors' legacies.
"I'm here today because of the men and because of the women who were lynched, who were humiliated, who were discriminated against, who were suppressed, who were repressed and oppressed, for the right for the equality at the polls," Winfrey told voters in Marietta. "And I want you to know that their blood has seeped into my DNA, and I refuse to let their sacrifices be in vain. I refuse."
Winfrey also told the crowd that she was a registered Independent and that nobody had paid her to be there. Instead, she said she had reached out to Abrams herself and offered her support in the final days before the midterm elections. According to the Associated Press, Winfrey rarely endorses political candidates, but on Thursday, she lauded Abrams as a "change-maker" who wanted to work in Georgians' best interests.
"I paid to come here myself, and I approved this message," Winfrey said. "I am here today because Stacey Abrams cares about the things that matter."
Winfrey went on to discuss Abrams' progressive positions on environmental protection, health care, and gun control, the Guardian reported. She also dispelled any rumors about her potentially running for elected office. She told voters that she is not interested in running, and that she would rather support candidates like Abrams who share her values.
In addition to lending her support to Abrams' gubernatorial campaign, Winfrey urged all Americans to get out the vote, citing the obstacles that so many people have faced in order to give them the right to do so.
"For anybody here who has an ancestor who didn't have the right to vote, and you are choosing not to vote — wherever you are in this state, in this country — you are dishonoring your family," Winfrey said in Marietta. "You are disrespecting and disregarding their legacy, their suffering and their dreams, when you don't vote."
The Atlanta Journal-Constitution reported that Winfrey may even join Abrams in door-to-door campaign efforts on Friday.
According to CNN, Winfrey also directly called on women to vote — she reminded them that it hasn't even been 100 years since women in the United States obtained the right to do so, and urged them to respect that legacy. In a statement to NBC News on Wednesday, Abrams said she was "honored" to have Winfrey campaigning alongside her.
"Oprah Winfrey has inspired so many of us though the years with her unparalleled ability to form real connections and strengthen the bonds of family and community," Abrams told NBC News. "I am honored to have Oprah join me for uplifting and honest conversations with voters about the clear choice before us in this election and the boundless potential of Georgians."
On Tuesday, Abrams will face her Republican opponent — Brian Kemp — in what is expected to be an extremely close race.