Obama Visited Kenya And Met Up With His Sister & The Pics Are Adorable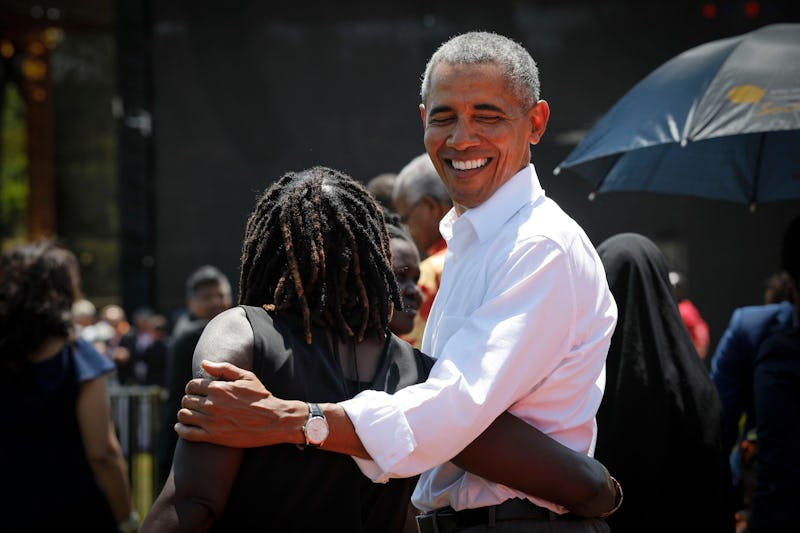 DAI KUROKAWA/EPA-EFE/Shutterstock
Barack Obama's first trip back to Africa since leaving the White House included a stop in Kenya, where his father was from. These photos of Obama in Kenya show what he's doing with his family after the presidency, because he was there not just to meet with government officials but also to see his sister and open a sports and vocational center in his father's hometown.
His half sister, Auma — they have different mothers — is opening the center in honor of their father. She said Obama's presence means a lot. "Given that his own mission under the Obama Foundation is to inspire and empower people to change the world, his attendance at this event at our ancestral home, where our father was laid to rest, is of great significance to me," Auma said last month.
Auma has played a big role at moments in Obama's life — she picked him up at the airport when he first visited Kenya to learn more about his family — and now that Obama is out from the magnifying glass of the White House, they might connect even more. She was at his 2009 inauguration and then was a key player when Obama last visited Kenya in 2015.
Obama's Kenyan heritage was used by Republicans, including President Trump, during his presidency to undermine his legitimacy. Trump regularly questioned whether or not Obama was truly born in the United States, which led Obama to release his long-form birth certificate to prove he was born in Hawaii.
Now that he's no longer president, Obama has the time and freedom to make these kinds of trips and connect with his family, including his sister, who described Obama in her memoir as her "best friend."