Photos Of The "Yellow Jacket" Protests In Paris Show Nonstop Destruction And Unrest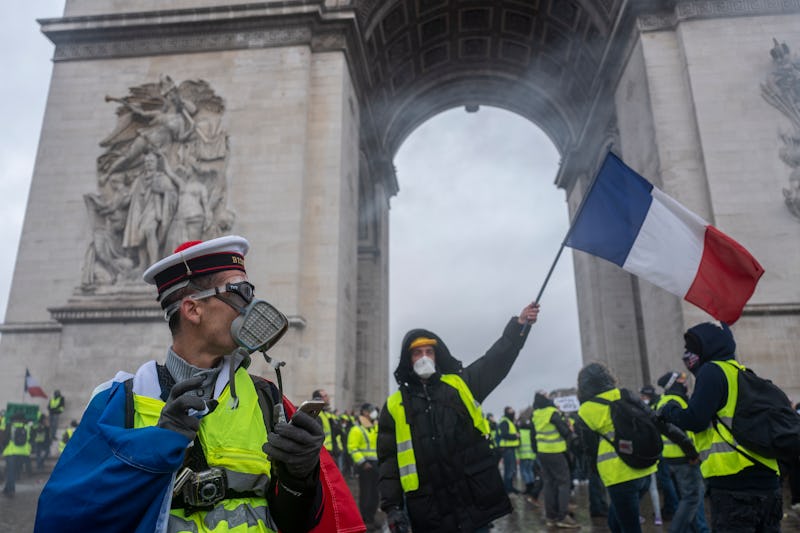 Veronique de Viguerie/Getty Images News/Getty Images
Police fired tear gas and water cannons onto thousands of demonstrators protesting a new round of fuel tax hikes and an overall rising cost of living in Paris, France, on Saturday. Demonstrators reportedly smashed windows, set fire to vehicles, and vandalized the Arc de Triomphe in what marked the third week of demonstrations against French President Emmanuel Macron's economic reforms. Indeed, photos of the Yellow Jackets protests in Paris show just how destructive this urban riot has been.
According to NBC News, more than 400 people were arrested with 130 people injured in Saturday's so-called "Yellow Jacket" or "Yellow Vest" protests in Paris. While a number of protesters remained peaceful, officials told the BBC that others hurled projectiles at law enforcement, vandalized property, and set fire to cars and buildings. According to France's Interior Ministry, at least six buildings were set on fire.
While Saturday's protest turned destructive in Paris, the City of Lights wasn't the only French city to see demonstrations against rising gas taxes. Some 75,000 people were estimated to have participated in some kind of demonstration against the reform on Saturday, according to Sky News.
But Saturday's protesters fell significantly short of the 280,000 people NBC News reported took to the streets across the country in protest of the tax hike on Nov. 17. Those demonstrations, however, remained largely peaceful, in contrast to Saturday's protests in Paris.
On Sunday, government spokesperson Benjamin Griveaux urged demonstrators to remain peaceful and said the country was considering declaring a state of emergency in an effort to prevent further unrest, Sky News reported.