Kentucky Police Tweeted A Rape Joke During The Super Bowl & It'll Infuriate You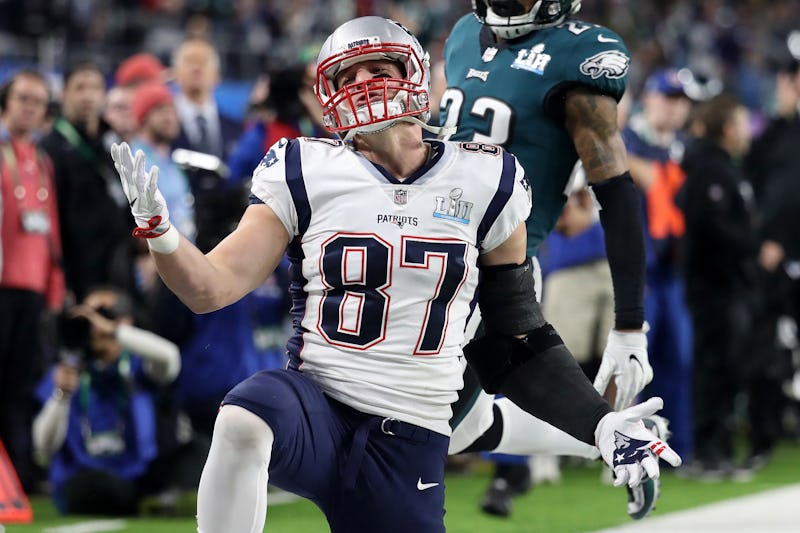 Rob Carr/Getty Images Sport/Getty Images
The Kentucky State Police department tweeted a rape joke about Rob Gronkowski during the Super Bowl from its official account and then swiftly deleted it. According to the Kentucky Courier Journal, the post referenced Patriots tight end Rob Gronkowski and was meant to dissuade readers from driving while intoxicated. Instead, it incited an angry reaction from Alison Lundergan Grimes, Kentucky's Secretary of State, who said that the department needed to issue an apology.
"Enjoy watching @Robgronkowski (TE) play but if you drink & drive...your tight-end may end up in jail! #designateddriver," read the tweet. It featured a GIF of a falling bar of soap. The GIF is a reference to "Don't drop the soap," a crude joke that's been around since at least the early 2000s and implies that a prison inmate who drops a bar of soap in the shower could be anally raped by another inmate when they bend down to retrieve it.
After the Kentucky Courier Journal contacted the department for comment, the tweet was deleted, according to the Journal.
The description on the department's Twitter account reads, "KSP has defined itself as a professional, detailed and efficient law enforcement agency dedicated to preserving law and order for the protection of its citizens." The account has over 51,000 followers and tweets frequently, including occasional attempts at humor. It posted many warnings against drinking and driving throughout the Super Bowl, including another that seems to reference the conditions in jail: "Here are your options for dinner if you decide to #DrinkAndDrive after the #SuperBowl," it said, "Soup or bowl?"
Secretary Grimes called for an apology from KSP on Twitter shortly after the tweet was posted and deleted. "Rape & sexual assault are not joking matters," she wrote. "Citizens expect & deserve better of law enforcement. An apology to victims everywhere from @kystatepolice is needed."
It's horrifying for a police department to even jokingly lend any credence to the idea that the people it arrests will likely be raped while imprisoned. Police are supposed to keep people safe; this tweet treats the safety of inmates' bodies with total indifference. It references rape as though it is a casual — and even acceptable — byproduct of going to jail.
Then there's the fact that prison rape is actually a real, systemic problem. 200,000 people were sexually abused in 2011 while imprisoned in U.S. detention facilities. More than 3 percent of all people in jail in 2012 reported having been sexually abused, and the number was much higher — 9.5 percent — for youths in juvenile detention. Rape that occurs in prisons is rarely treated with the same severity as rape that occurs elsewhere, and jokes like this perpetuate the idea that prison rape isn't a serious issue. Whether or not it happens in prison, rape isn't a laughing matter. It's a horrible, and often traumatic and life-changing, crime.
Of course, KSP says that it does take prison rape seriously and responds to reported violations with due diligence. "The Kentucky State Police investigates allegations of criminal sexual abuse when requested by Kentucky Department of Corrections facilities," reads a 2017 letter from a KSP official to the commissioner of the state's Department of Corrections, surfaced by the Kentucky Courier Journal. "All KSP troopers receive training in sexual abuse investigations."
The Department of Corrections says that it has a "zero tolerance [policy] toward all forms of sexual abuse and sexual harassment" that allows it to operate "in compliance with Section 115.22 of the Prison Rape Elimination Act (PREA) Standards."
KSP has not yet commented on its tweet or its decision to delete it.