These Amal Clooney Quotes Are Inspiring AF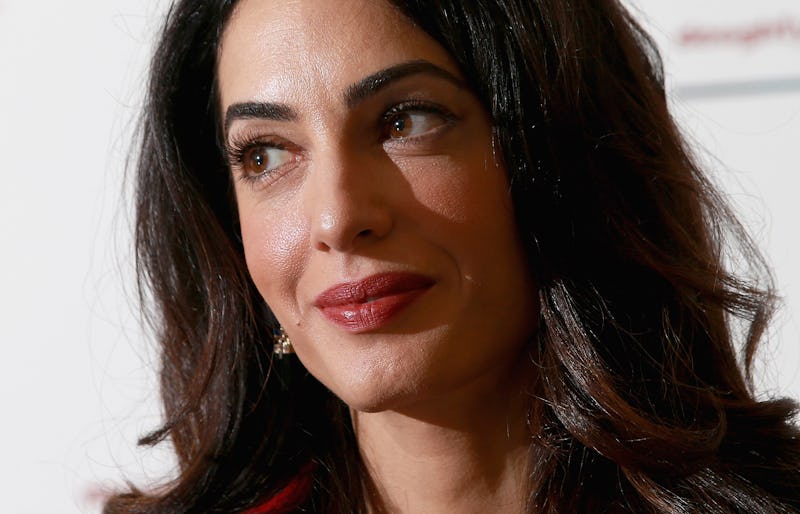 Chris Jackson/Getty Images Entertainment/Getty Images
Congratulations may be in order for the Clooneys, because they might soon be welcoming a few new additions to the fam. According to Us Weekly, Amal Clooney is reportedly pregnant with twins. At this point, it's only speculation, but it's obvious the couple would make some beautiful babies, and the publication guesses they could arrive as early as June. (Bustle reached out to George Clooney's rep for comment, but did not receive a response at the time of publication. Amal's rep could not be reached.) George himself hasn't been super vocal about fatherhood, but these Amal quotes show she'd make the best parent.
We already know George is enamored with his wife, and I wouldn't expect anything less from her kids. Plus, they're getting one hell of a role model. Amal is a graduate of England's prestigious University of Oxford; an accomplished, award-winning international lawyer; an outspoken feminist; and a staunch supporter of human rights across the board. Not to mention the fact that she speaks three languages, is an active philanthropist, was chosen as Barbara Walters' Most Fascinating Person of 2014, and managed to marry Hollywood's most eligible bachelor. So yeah, George picked a winner. Let's review.
She Stands Up For Women
During her keynote speech at the Texas Conference for Women last November, Amal urged women to perform "everyday acts of feminism" and said,
"The worst thing that we can do as women is not stand up for each other, and this is something we can practice every day, no matter where we are and what we do — women sticking up for other women, choosing to protect and celebrate each other instead of competing or criticizing one another."
She's Driven
Amal is an accomplished human rights lawyer, and she takes her job very seriously. As she told NBC News in 2016,
"If you are a lawyer, and you want to take on easier cases, you can prosecute traffic violations or something. You'd have a very high rate of success, and you probably could sleep more easily at night. But that's not what drives me. I want to work on cases that I feel the most passionate about."
She Doesn't Apologize For Being Passionate
Also during her Dallas keynote speech, Amal said women have nothing to be sorry for when it comes to being invested in their work. She explained,
"I don't think it's because I'm a woman. People who are passionate are good at what they do. These emotions are a driving force, and I don't think women should apologize for them any more than a man should."
She Has A Sense of Humor
When a reporter joked she was expected to wear Versace in court, Amal pointed to her gown and collar bands before she retorted, "I'm wearing Ede & Ravenscroft." It's a reference to a firm of London tailors known for making barristers' gowns. So, she's funny, and she also doesn't have time for any condescending fashion questions.
Fame Hasn't Affected Her
In the same interview with NBC, she explained she's more focused on her work than being a celebrity. She said,
"I think it's wonderful celebrities would choose to spend their time or energy or the spotlight that they have to raise awareness about these causes. I don't really see myself in the same way because I'm still doing the same job that I used to do before. So if there's more attention paid, for whatever reason, to that, then I think that's good."
If Amal is actually pregnant, congrats to the Clooney kids, because they lucked out on a stellar mom.