The Unbelievable Reason Trump Reportedly Didn't Want To Reappoint Janet Yellen To The Fed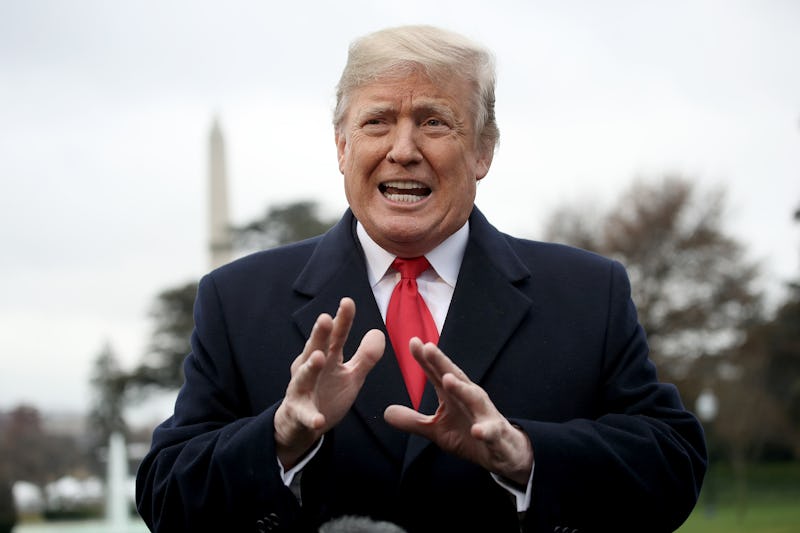 Win McNamee/Getty Images News/Getty Images
The president of the United States has started to throw his height around, in a way. The man whose own height is a source of conspiracy theories has actually criticized others for being too short, apparently. The Washington Post reported that President Donald Trump found Janet Yellen too short to be Fed chair. She was first appointed by Barack Obama in 2014; she was replaced by Trump in February.
According to The Post article, Trump did consider reappointing Yellen after she impressed him in an interview, aides told the paper. Advisers suggested he pick someone else, though, and Trump was reportedly "hung up" on her height. Bustle has reached out to the White House for comment.
Current and former officials told The Post that Trump told National Economic Council aides that Yellen was not tall enough for the job and asked if they agreed. Trump's medical records say he is 6 feet, 3 inches tall, while Yellen is reportedly 5 feet, 3 inches tall — a foot shorter.
These details weren't mentioned by Trump directly in the article, which covered a 20-minute interview with the president on Tuesday. Instead, these details were added as color, given how much Trump talked about the Fed and its new chair. Trump criticized the Federal Reserve for raising interest rates after he was asked about the economy. The reporter mentioned both the Wall Street declines and the GM plant closures and layoffs.
"I'm doing deals, and I'm not being accommodated by the Fed," Trump told The Post. "They're making a mistake because I have a gut, and my gut tells me more sometimes than anybody else's brain can ever tell me."
Trump went on to criticize the person he replaced Yellen with, Federal Reserve Chair Jerome Powell. "So far, I'm not even a little bit happy with my selection of Jay. Not even a little bit. And I'm not blaming anybody, but I'm just telling you I think that the Fed is way off-base with what they're doing," Trump told the paper.
The president seemed to take responsibility for choosing Powell, though. "Look, I took recommendations. I'm not blaming anybody," he said. Experts interviewed in the piece said that the moves taken by the Fed were likely necessary to prevent the economy from overheating, particularly following the Republican tax cuts.
Trump attacked GM on Twitter Tuesday for its moves to close factories and threatened to cut subsidies. "Very disappointed with General Motors and their CEO, Mary Barra, for closing plants in Ohio, Michigan and Maryland. Nothing being closed in Mexico & China. The U.S. saved General Motors, and this is the THANKS we get!" Trump tweeted. On Wednesday, he took the argument further, calling for more tariffs on imported small cars.
As for Trump's height, it is listed in medical records released in January. Their accuracy has been challenged, though, because Trump was reportedly listed as 6 feet, 2 inches on his driver's license, which was issued in 2012. That has been jumped on by the "girther" movement because the extra inch, coupled with his weight, kept the president from registering as technically obese by just one pound.
The president was prescribed an exercise regimen by his doctor — who focused on weight and not height. That's something you can't change, in theory, which is something Yellen can hopefully take comfort in.