You Can Order A Prosecco Pie Online For Thanksgiving Dinner This Year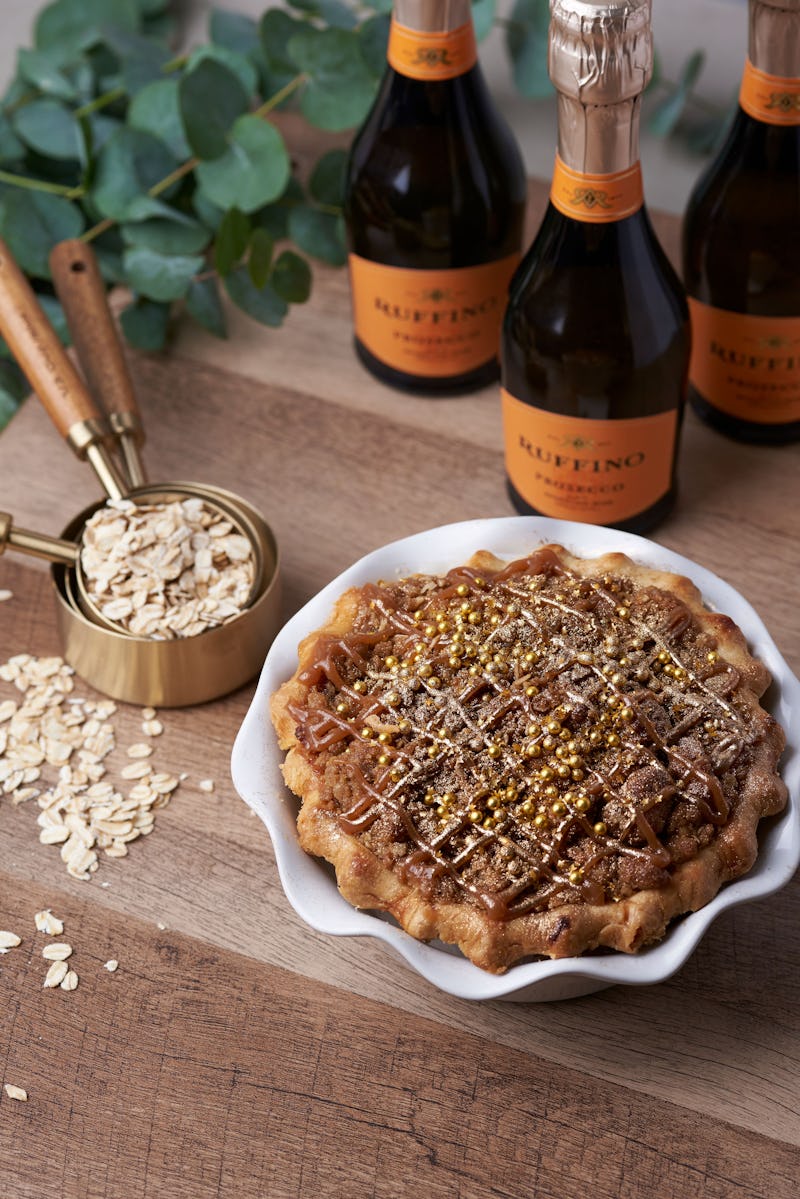 Courtesy of Margarita Garcia
So, hey, guess what? All of your winter holiday dessert conundrums have just been solved: There is such a thing as prosecco pie now. A collaboration between RUFFINO wines and the Little Pie Company, the Limited Edition RUFFINO Salted Caramel Prosecco Pie combines everything that is good in this world into one delightful treat. It won't be around for long — it is limited edition, after all — but the good news is that the Little Pie Company ships nationwide. That means that, as long as you act fast, you can get in on the fun anywhere in the United States starting Nov. 5. Heck, and yes.
Founded in Tuscany in 1877 by cousins Ilario and Leopoldo Ruffino, RUFFINO Wines has, uh, been around the block a few times. The Little Pie Company, meanwhile, is more recent — and in a substantially different location: It was founded in New York by actor Arnold Wilkerson in 1985. The pairing might, therefore, seem like an unlikely alliance; however, the resulting pastry sounds nothing short of perfect, so… let's just say I'm willing to roll with it. Besides, the newness of it all is part of the draw: As Wilkerson put it in a press release provided to Bustle, "I love that I get to experiment with different ingredients to create something delicious that has never been done." He added, "Prosecco and pie are holiday staples, so now you can enjoy them all at once!"
RUFFINO's Prosecco features aromas of apple, pear, citrus, and wisteria, with the tasting notes including apple and peach, so those are the flavors the Little Pie Company looked to when dreaming up the pie. At its core, it's an apple pie — but it's a fancy apple pie. In addition to the apples, it also includes brown sugar, salted caramel, and (of course) a healthy slug of RUFFINO Prosecco. Said Wilkerson in a press release, "We had a blast creating the RUFFINO Prosecco Pie, from finding the perfect balance between the prosecco, apple and salted caramel to ensure its mouthwatering taste, to decorating the crust." The treat is available in two size: 10 inches and five inches.
There are a few ways you can get your hands on a Salted Caramel Prosecco Pie, although which one you'll need to utilize depends largely on where you are. If you're based in New York and able to swing by the bakery's Midtown location on W. 43rd St., you can just call the bakery to place your order; then, when it's ready, you can just pick it up in person. If you're in New York and want your pie delivered to you, you can place your order online via Sweetist. And if you're anywhere else in the United States, you can get a Little Pie Company pie shipped to you through FoodyDirect.
(If you're elsewhere, though, alas, you're out of luck. The Little Pie Company doesn't ship outside the United States; as the company explains on its website, "There are specific criteria for shipping perishable foods abroad, therefore increasing the risk of spoilage." Sorry.)
If you get your pie shipped to you, it will arrive frozen and shrink-wrapped, tucked inside a mylar pouch packaged in a corrugated box. Ice packs help keep the temperature inside the package cool, although the pie will thaw a bit during shipment. (That's by design.) Once you get yours, it will keep in the refrigerator for up to five days or the freezer wrapped in aluminum foil for about a month. When you're ready to devour yours, bring it to room temperature; then pop it, uncovered, in the oven at 325 degrees. You'll want to bake five-inch pies for about 10 minutes and 10-inchers for 20 to 25 minutes.
The RUFFINO Salted Caramel Prosecco Pie will be available from the Little Pie Company starting on Nov. 5 through Dec. 31, both in-store and online. A 10-incher will cost you $35, while a five-incher is $9.50. Happy early holidays!