Sally Field's Response To Sam Bee Calling Ivanka A "C*nt" Will Actually Make You Gasp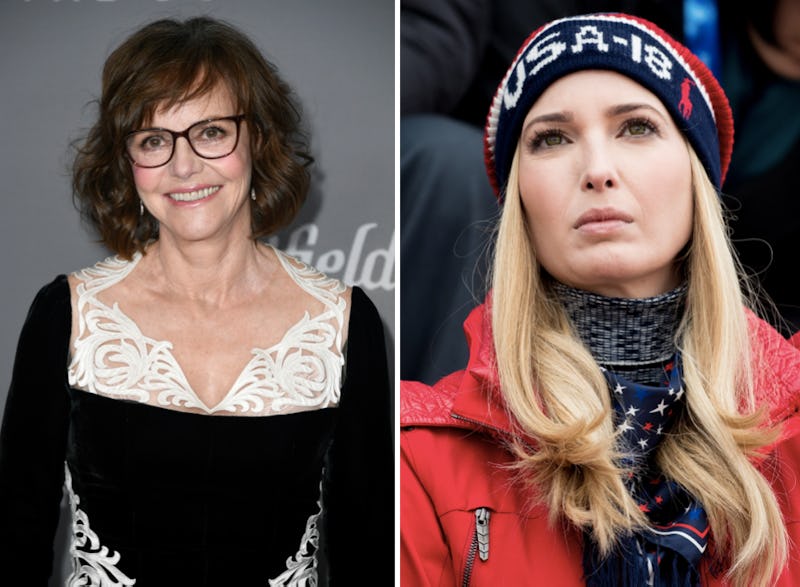 Frazer Harrison/Getty Images Entertainment; Andreas Rentz/Getty Images Sport/Getty Images
TV host Samantha Bee stirred up a big pot of controversy this week when she called Ivanka Trump a "c*nt" during a Wednesday broadcast of her show. Most reactions fell somewhere between demanding Bee's proverbial head and defending her use of comedic vulgarity. But actress Sally Field's response to Bee's comment on Ivanka managed to do something completely different: critique both women in one sharp tweet.
On Thursday, Field took to Twitter and wrote, "I like Samantha Bee a lot, but she is flat wrong to call Ivanka a c*nt. C*nts are powerful, beautiful, nurturing and honest." Seeing "America's Sweetheart" casually tweet the c-word not once, but twice, likely jarred many observers. But Field's message is pretty radical in itself.
For one, Field is calling out Bee for using the four-letter term as an insult. Tracing the etymology of the c-word for Quartz, writer and lawyer Ephrat Livni argued in 2017 that it didn't begin its word life as a slur. And as Livni outlines throughout her brief history of one of today's most taboo words, she makes the case that feminists should reclaim the c-word.
That appears to be just what Field did in her critique of Bee's c-word usage.
But clearly, Field wasn't letting Ivanka Trump off the hook, either. By listing the real qualities of a true c-word — "powerful, beautiful, nurturing, and honest" — Field made clear she sees none of those traits in Trump.
That message was echoed by a number of celebrities who came to Bee's defense, many by throwing more insults Trump's way. The comedian Billy Eichner wrote on Twitter, "Honestly I think Samantha Bee was being generous."
Field's tweet, however, wasn't received particularly well by those on the other end of the political spectrum. Many expressed shock and disappointment with her response, indicating that they viewed her tweet as defending Bee's insult.
On Wednesday, Bee had spoke on her show about the Trump administration's official policy of separating migrant children from their parents at the border. She brought up Ivanka Trump tweeting a photo of her hugging her toddler — which many have criticized as tone-deaf, given her father's immigration policies — and demanded the first daughter do something about the separation of migrant families.
"You know, Ivanka, that's a beautiful photo of you and your child, but let me just say, one mother to another: Do something about your dad's immigration practices, you feckless c*nt," Bee said. "He listens to you."
The backlash was deafening. Plenty of conservatives and liberals criticized Bee's use of the word, which is often used as a sexist insult (within a certain context of power structures) against women. The White House went so far as to call for the show to be canceled, which in fact would be suppression of free speech. Bee later apologized.
Bee's brash, no-holds-barred style of comedy has earned her TBS show Full Frontal with Samantha Bee plenty of praise. But her comment on Wednesday comes right on the heels of ABC canceling the Roseanne reboot over its star Roseanne Barr's racist tweet comparing former Obama aide Valerie Jarrett to an ape. (Barr previously referred to another Obama official, Susan Rice, as an ape in the past and has used "c*nt" to describe Hillary Clinton.)
Many have pointed out that that a white woman calling black women a racist term is not the same as a woman calling another woman the c-word. TBS' statement on Thursday indicates that the network stands by Bee and backs her apology. There have been many, many responses to the comedian's comment about Ivanka Trump, but Field's tweet is one that clearly made an impact.