The "Shirtless Tonga Guy" Just Described His Ideal Date & It's Romantic As Heck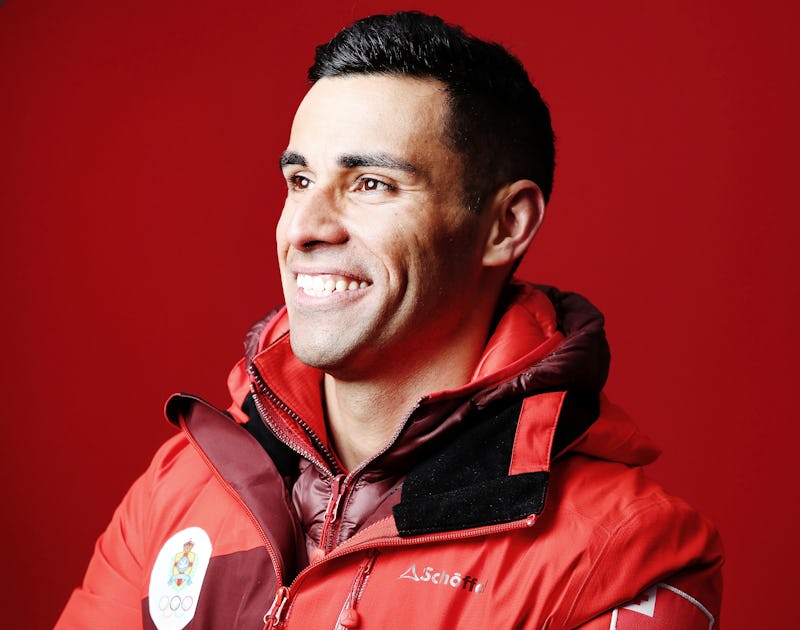 Marianna Massey/Getty Images Sport/Getty Images
Adam Rippon might be the Olympian social media champion, but Pita Taufatofua, shirtless Tongan flag-bearer of my hopes and dreams, is the real star of Winter Olympics 2018. First, Taufatofua braved the elements and bared his oiled-up torso even in subfreezing PyeongChang (and he wasn't even cold!), and now, he's dished on his perfect first date with TODAY using his perfect, perfect accent. Unfortunately, this date does not consist specifically of escorting a young curly-headed woman named Rebecca Fishbein to dinner and a movie, but, whatever, I'll read between the lines.
Taufatofua gave an video interview with TODAY yesterday, and though, tragically, he was wearing a jacket during filming, he did bless viewers with his aforementioned accent (Taufatofua grew up in Australia) and flashes of his spectacular smile. In a one minute, 23 second video, which was about 75 minutes too short, Taufatofua discussed his perfect first date, preferred Valentine's Day gifts, and his best pick-up techniques, among other things.
"I like to keep it as simple as possible," Taufatofua said, of the aforementioned first date move. "Chicken teriyaki, a little Japanese restaurant somewhere, followed by a walk is perfect. As simple as possible, it's just about the person." That's right, Pita, all eyes on me, yes indeed.
SQUEAL.
Taufatofua also let me know what I should get him for Valentine's Day next year, and it is not roses. "Flowers, to me, die within a few days," he said. "Chocolate gets eaten. So, I'd find something that lasts a lot longer. Was that the right answer?"
Yes. Everything you say is right. Yes.
For the lucky few Taufatofua attempts to take on a date, here's how he'll make his move: "So you go up to a girl and say, 'What's your favorite drink?' And she looks at you, and she's serious, and she tells you, whatever drink it is. And you say, 'No. I know people like you. You like a hot Polynesian on the rocks.'"
YES, PITA, YES I DO.
Apparently, someone doesn't?
"And it never works!" Taufatofua says, laughing.
WHAT? Who is turning you down??? This is a travesty!
Taufatofua, for those not in the know, won widespread acclaim as the shirtless flag bearer in the 2016 Summer Olympics in Rio, competing for Tonga in taekwondo. Somehow, Taufatofua didn't think it was enough to be an Olympian in one sport, so he decided to spend one year training as a cross-country skier — despite, of course, coming from a country in which there is no snow — and showed up in South Korea for the Winter Olympics, according to Olympic.org. In fact, Taufatofua had only seen snow one year before deciding to train which means he saw snow for the first time two years ago. He's only had twelve weeks on snow. The man is both an Olympian and a monster, in many ways.
Of course, while Taufatofua has managed to make it to the Olympics, which is truly half the battle, he does not appear to be there to take home any medals. According to the HuffPost, during a press conference on Wednesday, he joked that his performance planned included, "finish before they turn the lights off; that's number one," and "Don't ski into a tree, that's number two."
Taufatofua, who is the first Tongan to participate in the Olympics, will ski on Friday, but he knows the odds are against him. "I won't medal on Friday, but in four years someone from Tonga might, in eight years someone from the Pacific might," he said, during the press conference. "These kids who are watching now, they'll have access to something they never knew existed before."