Why Some Members Of The LGBTQ Community Feel Excluded From #MeToo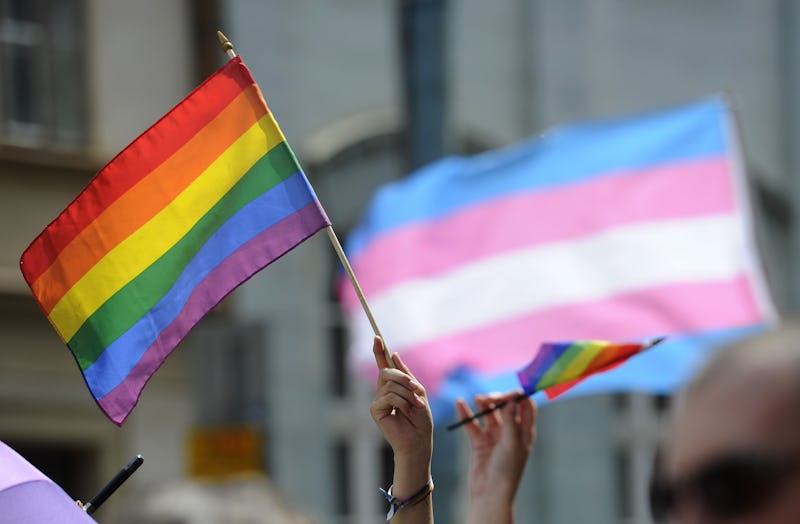 SAMUEL KUBANI/AFP/Getty Images
The #MeToo has been inescapable on social media the past week, ever since actor Alyssa Milano encouraged women in particular to share their experiences of sexual assault or harassment on social media. The "Me Too" movement was originally created by activist Tarana Burke nearly a decade ago, but gained popularity after the Harvey Weinstein sexual assault allegations were revealed by the New York Times. Since Milano's OG Tweet on October 15, thousands of survivors have disclosed their experiences with sexual harassment or assault, and more people keep posting their #MeToo stories. The campaign has garnered a multitude of responses from the LGBTQ community: many are supportive of the trending hashtag and campaign, while some members of the LGBTQ community feel excluded from #MeToo.
Many women in the LGBTQ community, and in particular the bisexual community, shared the common experience of being sexually assaulted or harassed by men who fetishized their sexual orientation. One Twitter user recalled being sexually harassed by a stranger who became interested in her bisexuality. Another Twitter user added, "Two male 'friends,' at separate points, tried to have sex with me when I was drunk. I wasn't interested. I'm a lesbian. They knew. #MeToo." Many openly bisexual celebrities, like Evan Rachel Wood and Anna Paquin, have also shared their own "Me Too" stories on Twitter.
Bisexual women face overall higher rates of sexual and domestic violence than both heterosexual and gay women, making them more susceptible to "me too" experiences than most folks. Moreover, 61 percent of bisexual women reported being victims of sexual assault, physical abuse, or intimate partner violence in their lifetime compared to only 35 percent of straight women and 43 percent of lesbians, according to the CDC.
Despite the participation of many LGBTQ people in the "Me Too" campaign, some members of LGBTQ community feel that the campaign focuses too strongly on the gender binary, and seems to erase nonbinary or genderqueer people from the conversation. One Twitter user wrote, "Really disappointed at the lack of LGBTQ+ inclusion in #metoo. It's not just men and women. Check your language." An LGBTQ-focused therapist, Nicole Hast, also chimed in on Twitter, saying "As we see all the #MeToo statuses, let's remember that trans and nonbinary folks are often those most impacted by rape culture."
While some folks simply altered the "Me Too" campaign's message to include not only women, but also trans and nonbinary folks, some have used this campaign to explain why our conversations about sexual assault need to be degendered all the time. "If most spaces for survivors of gender-based sexual violence are for cis women, where does that leave the trans or nonbinary people who may or may not identify with femininity or womanhood, but whose bodies cis men have felt entitled to because they 'looked like a woman'?" asked nonbinary writer, Kim Kaletsky, in a 2016 essay for The Establishment. Kaletsky's call for more inclusive language is crucial, especially because nonbinary and trans people are disproportionately affected by sexual violence compareed to the general population.
Overall, studies suggest that 64 percent of all transgender people will experience sexual assault in their lifetime. According to the Movement Advancement Project, 59 percent of transgender and nonbinary people who also identify as bisexual, queer, or pansexual report have been sexually assaulted. Moreover, transgender people of color have higher odds of being assaulted than their white peers. Despite these statistics, campaigns like "Me Too" still primarily focus on the most privileged — aka, heterosexual, white cis women — instead of making the effort to be inclusive marginalized people, like the LGBTQ community.
The "Me Too" campaign has been an empowering platform, inspiring thousands of survivors to share their experiences, and stand in solidarity with one another. There is no denying how powerful the "Me Too" movement is, but the way we talk about sexual harassment and assault advocacy needs to be more inclusive of all people who are vulnerable to sexual harassment and assault.