Stormy Daniels Just Released A Statement About Michael Avenatti — And She's Not Happy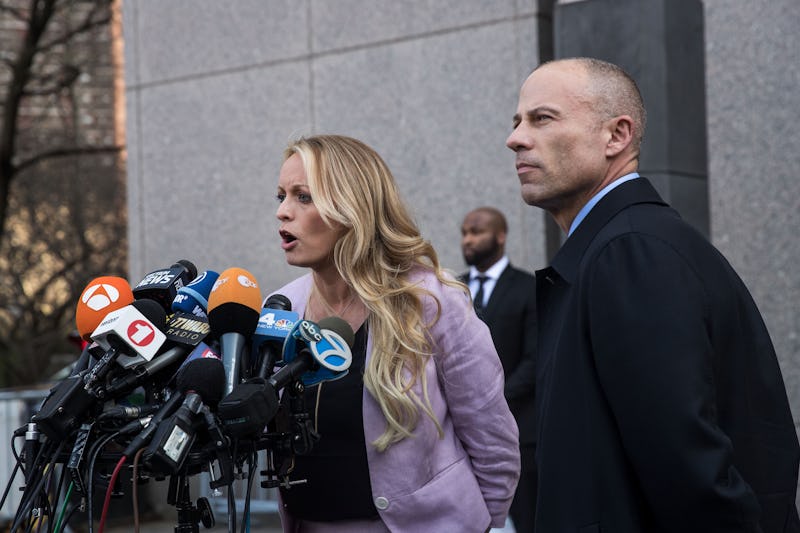 Drew Angerer/Getty Images News/Getty Images
In a statement Wednesday to the Daily Beast, Stormy Daniels said that her lawyer Michael Avenatti sued President Trump for defamation against her wishes, set up a crowdfunding page without her permission, and hasn't provided her with accounting information on how donations to her legal fund have been spent. Although Daniels called Avenatti a "great advocate," she also expressed a general frustration Wednesday with how he's gone about representing her in her claims against Trump.
"For months I've asked Michael Avenatti to give me accounting information about the fund my supporters so generously donated to for my safety and legal defense," Daniels said in a lengthy statement to the Daily Beast. "He has repeatedly ignored those requests. Days ago I demanded again, repeatedly, that he tell me how the money was being spent and how much was left. Instead of answering me, without my permission or even my knowledge Michael launched another crowdfunding campaign to raise money on my behalf. I learned about it on Twitter."
Daniels says that she and Trump had an affair in 2006, and that he paid her $130,000 in hush money to stay quiet about it during the last weeks of the 2016 presidential campaign. Trump denies that the two ever had an affair, but has acknowledged that he paid Daniels $130,000 through his former lawyer, Michael Cohen.
Avenatti has represented Daniels in various legal claims against Trump, and in April, it was reported that Daniels had sued Trump for defamation. A judge dismissed that lawsuit in October, and ordered Daniels to pay Trump's legal fees.
Now, Daniels now says that Avenatti filed the defamation suit against her wishes; if true, this could place Avenatti in legal trouble, legal experts told the Daily Beast, and open him up to a malpractice lawsuit by Daniels. She hasn't indicated that she's considering this, however.
Rather, Daniels said in her statement that Avenatti "has been a great advocate in many ways," and that she's "tremendously grateful to him for aggressively representing me in my fight to regain my voice." In other ways, however, Avenatti "has not treated me with the respect and deference an attorney should show to a client," Daniels said.
"He has spoken on my behalf without my approval. He filed a defamation case against Donald Trump against my wishes. He repeatedly refused to tell me how my legal defense fund was being spent. Now he has launched a new crowdfunding campaign using my face and name without my permission and attributing words to me that I never wrote or said," Daniels' said.
In response to Daniels' comments, Avenatti released the following statement to the Daily Beast:
I am and have always been Stormy's biggest champion. I have personally sacrificed an enormous amount of money, time and energy toward assisting her because I believe in her. I have always been an open book with Stormy as to all aspects of her cases and she knows that. The retention agreement Stormy signed back in February provided that she would pay me $100.00 and that any and all other monies raised via a legal fund would go toward my legal fees and costs. Instead, the vast majority of the money raised has gone toward her security expenses and similar other expenses. The most recent campaign was simply a refresh of the prior campaign, designed to help defray some of Stormy's expenses.
Daniels said in her statement that, her gripes with Avenatti notwithstanding, she hasn't decided whether or not she'll continue to retain him.
"My goal is the same as it has always been—to stand up for myself and take back my voice after being bullied and intimidated by President Trump and his minions," Daniels told the Daily Beast. "One way or another I'm going to continue in that fight, and I want everyone who has stood by me to know how profoundly grateful I am for their support."