This Massive Global Survey Found Almost Everyone Was More Stressed & Sad In 2017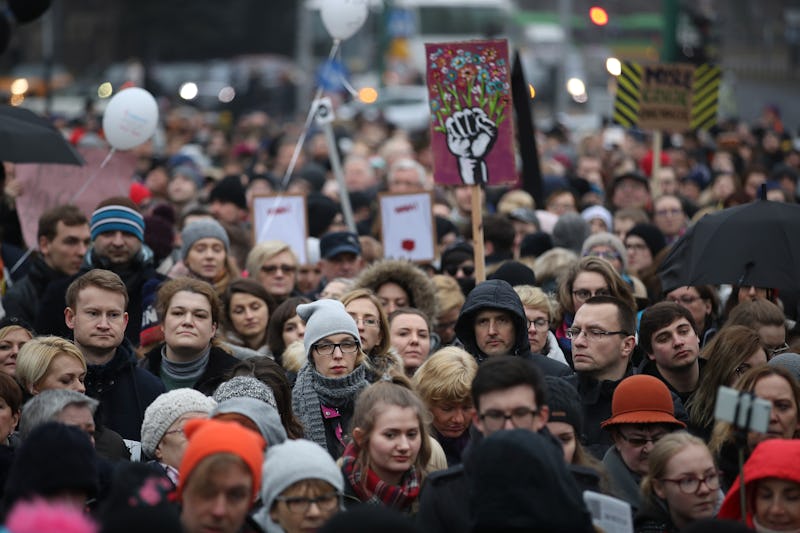 Sean Gallup/Getty Images News/Getty Images
If 2017 was a rough year for you, you're not alone. The 2018 Global Emotions Report, a massive Gallup survey that tracks something called the Negative Experience Index, found that negative emotions reached a new high in 2017. Feelings of sadness, anger, and physical pain were reported at an all time high globally, while reports of feeling worry and stress went up by two percentage points between 2016 and 2017, according to the survey.
The New York Times reports that more negative emotions were reported in 2017 than at any time since 2005, when Gallup, an analytics company, first rolled out the survey. LiveScience also reports that while Gallup saw an uptick in negative emotions in 2017, positive emotions also decreased when compared with the previous year's survey.
For the 2017 Negative Experience Index, Gallup's researchers interviewed over 154,000 people in 147 countries across the globe, according to LiveScience. Researchers asked participants whether they had experienced specific positive or negative emotions the day before — such as, did they feel well rested, were they treated well and with respect by others, and had they smiled, laughed, or enjoyed themselves. From there, Gallup used these responses to create an index score of positive and negative emotions for each country, with a score cap of 100 points.
According to the survey, all negative emotions recorded by Gallup reached new highs in 2017, with an overall score of 30. About four in 10 people reported worry or stress, while three in 10 reported physical pain. One in five experienced anger and sadness. Julie Ray, chief writer and editor of the Gallup survey told The New York Times that "This is the first time [since the survey was introduced] that we've really seen an uptick in negative emotions … It's as high as we've ever measured it." The New York Times further notes that feelings of worry and stress, specifically, were particularly prevalent for the survey's respondents, with over a third reporting these emotions from the day before.
Negative emotions were reported as highest, at a score of 61, in the Central African Republic (CAR), according to the survey. Tens of thousands were forced from their homes in 2017 as armed conflicts increased, and widespread violence prevented many from participating in the Gallup poll. 76 percent of residents in the CAR who were interviewed reported physical pain, while almost as many — 74 percent — said that they worried a lot during the previous day. It's further noted in the survey that both of these percentages are the highest recorded for any country in the past decade. LiveScience notes that other countries with high negative emotions scores include Iraq, South Sudan, and Chad, with scores of 59, 55, and 54 respectively.
It's important to note that while the world saw a major uptick in negative emotions in 2017, positive ones also remained steady in many areas. Even as negative emotions saw an increase, positive ones decreased only slightly — to levels recorded in 2011 and 2012 — according to The New York Times. The Times also reports that positive experiences and emotions were reported most among adults in Latin America, with Paraguay coming out on top as the happiest. Of those areas that reported the most positive emotions and experiences, only Canada, Iceland, Indonesia, and Uzbekistan fell outside the Latin American region, The New York Times further notes.
In short, the world is more stressed out, sad, and in pain than has ever been recorded before, because these are clearly challenging times, Gallup notes. Gallup further suggests that areas that are suffering the most need particular attention and intervention, and that world leaders should take note of the "emotional temperature" of the nations they lead — while working to improve conditions moving forward.