Here Are All The Feminist Moments You Might Have Missed From This Year's Golden Globes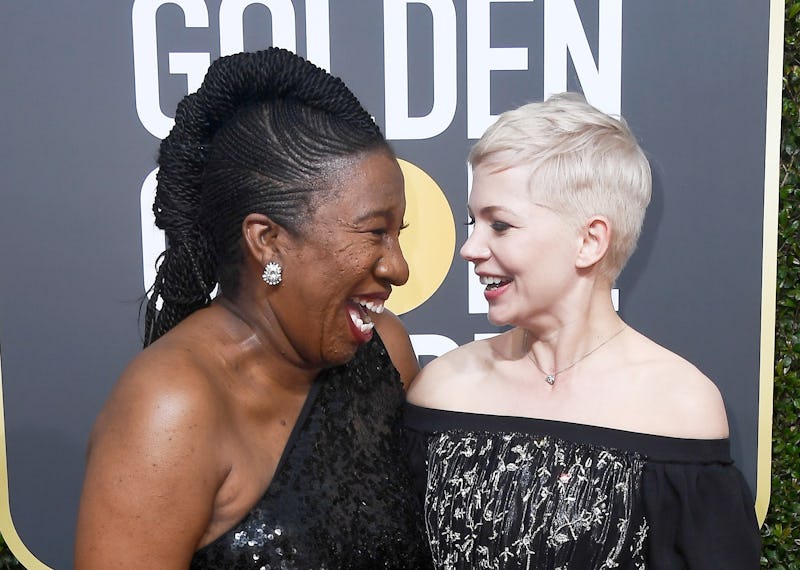 Frazer Harrison/Getty Images Entertainment/Getty Images
Kicking off the year's major award shows, the Golden Globes aired on Sunday, Jan. 7. And given the lead-up to the event, fans likely had their eyes peeled for the 2018 Golden Globes' most feminist moments. Whether that sentiment applies to seeing female stories take center stage (like Big Little Lies and The Handmaid's Tale), or hearing Hollywood stars speak out about issues that affect women across the globe, the expectations were high.
As you probably realized, the Golden Globes are the mainstream first award show since the outpouring of sexual assault and harassment allegations against some of the industry's most powerful men. In October, a New York Times report revealed decades' worth of allegations against Harvey Weinstein. (Weinstein apologized in his statement to the Times, though his spokesperson denied all claims of nonconsensual sex.) The likes of Kevin Spacey, Louis C.K., Matt Lauer, and Mario Batali all faced their share of allegations, showing that whether in TV, comedy, morning shows, or cooking, inappropriate behavior can occur across the board. And as a way to acknowledge that and take a stand, women and men planned to wear black in protest at the Globes.
That same message leads into Hollywood's Time's Up initiative, which was recently unveiled, where more than 300 women in the entertainment industry have come together in solidarity to raise awareness and funds for anti-harassment legal support for women across all industries — ranging from agriculture to restaurants.
So, how did the actual award show fare, in terms of feminist moments on the red carpet and main stage? Here's a round-up that will be updated throughout the night.
Bringing Activists & Advocates As Red Carpet Dates
Michelle Williams brought the #MeToo founder, Tarana Burke, as her Globes date. Other actors also decided to bring activists for racial and gender justice with them on the red carpet. In a statement on behalf of the advocates, they said,
"As longtime organizers, activists and advocates for racial and gender justice, it gives us enormous pride to stand with the members of the TIMES UP campaign who have stood up and spoken out in this groundbreaking historical moment. We have each dedicated our lives to doing work that supports the least visible, most marginalized women in our diverse contexts. We do this work as participants in movements that seek to affirm the dignity and humanity of every person."
Emma Watson is bringing Marai Larasi, Emma Stone will be joined by Billie Jean King, Susan Sarandon is taking Rosa Clemente, Meryl Streep is accompanied by Ai-jen Poo, Lauren Dern is bringing Mónica Ramírez, Shailene Woodley is taking Calina Lawrence, and Amy Poehler is joined by Saru Jayaraman.
Changing The Red Carpet Conversation
Even E!'s Giuliana Rancic wore a sparkly black dress. When talking to Debra Messing, Rancic asked, "Why are you wearing black?" instead of the typical question, "What are you wearing?" As mentioned earlier, the moment is a show of solidarity, where women and men are coming together to support and raise awareness for victims of sexual assault and harassment.
Debra Messing Addresses Catt Sadler's Equal Pay Situation
Instead of ignoring the elephant in the room, Messing brought up the fact that Catt Sadler left E! after claiming she wasn't paid the same as her male colleagues. This shows she wasn't sweeping the subject under the rug, and if women are going to speak out about equality in all aspects, this definitely is worth talking about.
Reese Witherspoon & Eva Longoria Spreading Time's Up's Message
As for why now, Witherspoon explained, "It just became clear with all of the news that's been coming out about our industry, and every industry, it couldn't just be business as normal."
And joining her on the carpet, Longoria said, "This isn't just a female issue, it's a power issue." She also acknowledged the women who came forward, saying, "They kicked that door open."
Michelle Williams' Expert Question-Shifting
When Carson Daly tried to ask her about being nominated, Williams quickly shifted the conversation back to what really matters — systematic change and the end of harassment. Fans on Twitter quickly applauded this move.
Seth Meyers Let Others Tell Jokes For Him
First, Meyers set up the joke: "The Golden Globes turns 75 this year—" Then, he called on Jessica Chastain to finish it, saying, "But the actress that plays its wife is still 32." A clear nod to how women tend to be cast in older roles than their actual age.
When he tried to call on Amy Poehler, she asked if it was the "mansplaining part of the evening." She said she didn't need his joke set-up, and instead proceeded to hilariously steal the spotlight.
Nicole Kidman Shares Her Trophy With A Few Key Women
Namely, Kidman shouted out Reese Witherspoon, Laura Dern, Zoe Kravitz, and Shailene Woodley — her Big Little Lies costars. She also then shifted the conversation to her mother, Janelle Kidman, who helped make her an activist.
Elisabeth Moss' Acceptance Speech
"We lived in the gaps between the stories," Moss read aloud, quoting an excerpt from Margaret Atwood. She credited the author, and women like her who are "brave enough to speak out against intolerance and injustice." Moss said, "We no longer live in the gaps between the stories. We are the story in print and we are writing the story ourselves."
Laura Dern Talking About The Power Of Speaking Out
While accepting her trophy for Big Little Lies, Laura Dern talked about how even though kids are often taught not to "tattle," there's power in speaking up. She emphasized the power of supporting survivors "who are strong enough to tell their truth." Dern added,
"May we teach our children that speaking out, without the fear of retribution, is our culture's new North Star."
Oprah's Speech
The entire audience was moved to their feet when Oprah Winfrey accepted the Cecil B. DeMille Award. She repeated the powerful message that "time's up." Not only that, but she became the first black woman to receive this honor, shattering a glass ceiling in the process. Her whole speech is worth listening to.
Natalie Portman's Perfect Call-Out To The Lack Of Female Directors
While on stage, Natalie Portman took a moment to acknowledge the fact that zero female directors were nominated this year. She flawlessly quipped, "And here are all the male nominees." It's true that no women's work was acknowledged in this year's category.
Big Little Lies' Big Win
Seeing a show that celebrated the stories of women take home this award was an awesome moment, especially when Reese Witherspoon spoke out about the power of supporting women. She said,
"I want to thank everyone who broke their silence this year and spoke up about abuse and harassment. You are so brave."
She also said she hopes the show inspires others to speak up.
Greta Gerwig Getting Her Moment At The Mic
While Greta Gerwig didn't snag a Best Director nom, she got her moment in the spotlight when Lady Bird won Best Motion Picture - Musical or Comedy. She gave shoutouts to all the talented women in her cast, including Saoirse Ronan.
Frances McDormand Pointing Out The HFPA's Female President
After promising to buy tequila shots for all the other nominees in her category, Frances McDormand acknowledged how badass it is that the Hollywood Foreign Press Association managed to elect a female president, Meher Tatna (especially considering the U.S. has yet to do so). On top of that, McDormand mentioned that women weren't just there for the food — they were there for "the work."
As the women made more than clear throughout the ceremony, they are there to do the work and to speak out. And no, they don't show any signs of stopping soon — nor should they.
If you or someone you know has been sexually assaulted, call the National Sexual Assault Telephone Hotline at 800-656-HOPE (4673) or visit online.rainn.org.