With These Low-Noise Window Air Conditioners, You Can Stay Cool In Sweet Silence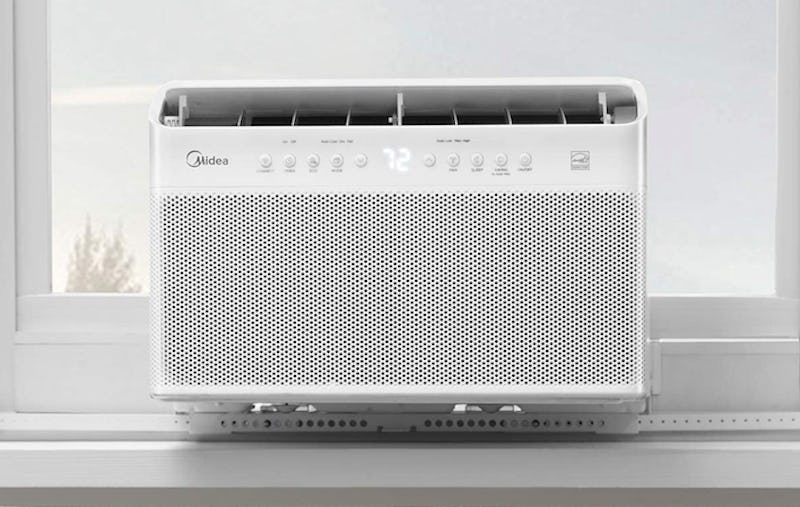 Amazon
There's something uniquely satisfying about a blast of cold air from a window air conditioner, but unfortunately, that relief comes with a fair bit of noise. To keep the racket down, the quietest window air conditioners will offer enough cooling power for the size of the room, but at a low decibel level — so you can stay cool without having to watch TV at an ear-splitting volume.
When it comes to shopping for the quietest window AC units, you'll have to strike a balance between cooling power and noise level (as measured in decibels). An air conditioner's cooling capacity is typically measured in British Thermal Units (BTUs) and the options on this list range from 5,000 to 15,000 BTU. An 8,000 BTU air conditioner can comfortably cool rooms up to 350 square feet, but choose a lower or higher BTU depending on your room size. And as far as noise goes, each of these air conditioners boasts quiet operation between 38 and 56 decibels (dBA). (For noise reference, 40 decibels is about as quiet as a suburban area at night, and 55 decibels is about the amount of noise a refrigerator makes.) However, it's probably not surprising that the higher BTUs an air conditioner boasts, the higher the decibels usually are. And if you're really committed to finding some peace and quiet, you may want to opt for a U-shaped AC unit. These units allow you to close the window fully, in order to block out the compressor noise (as well as street noise), and they have one more added benefit — you still get the option to open and close your window at will.
Of course — you'll also want to consider extra features like dehumidifying, power-saving modes, a remote control, and even Wi-Fi capability. Whichever suits you best, with the quietest window air conditioners, you can stay cool all day and night long in peace.
We only recommend products we love and that we think you will, too. We may receive a portion of sales from products purchased from this article, which was written by our Commerce team.