ATTN Bread Bakers: These 5 Pans Are The Secret To Perfect Loaves Every Time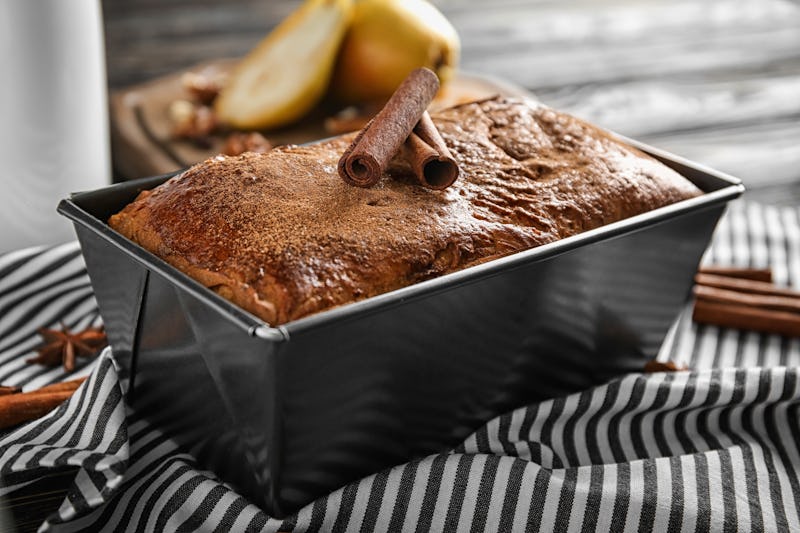 Shutterstock
A loaf pan is a surprisingly versatile workhorse for your kitchen. The best bread pans can be used for yeasty or dessert loaves, meatloaf, even for reheating leftovers in the oven. What makes a great loaf pan ultimately comes down to what you'll use it for most, and bakers of all skill levels have very strong opinions on what the best bread pan material is. Consider the following to find the best option for you.
Glass & Ceramic
Glass is popular because it is naturally nontoxic — but if you typically whip up sweet breads or cakes, the high sugar content in those recipes can cause them to brown a little too quickly in a glass pan. Since glass holds onto heat so well, it takes longer to cool down, which could result in over-baking your bread. That said, it usually releases loaves easier than metal pans. But, know that glass can shatter, whether from drops or extreme temperatures. Stoneware shares many of the same characteristics as glass, but everything from the type of clay used to its thickness can impact the final result, so it's important to evaluate each pan's specs to see if it's up for your task.
Metal
Metal pans are lightweight and shatterproof. Interestingly, the color of the metal plays an important role in how the pan bakes: A dark metal pan will cook your bread faster and brown it more, making it ideal for loaves where you want that crunch. Yet, light metal pans are what the bakers interviewed by Food52 preferred for all-purpose baking, for their ability to not absorb as much heat, and thus not over-bake. But metal options are often treated with a nonstick coating that can scratch, so you have to be careful what you use to clean them.
Silicone
This newer material give you a ton of flexibility (literally) because it can easily unmold from delicate loaves without damaging them, and it can go from the oven to the freezer without skipping a beat; plus, it can brown a bread beautifully and cool down quickly. Look for pans specifically made of 100% food-grade silicone that complies with FDA standards, or better yet, the stricter LFGB European regulations.
With that said, it's time to shop. The seven options below all come highly rated by avid bakers.
We only recommend products we love and that we think you will, too. We may receive a portion of sales from products purchased from this article, which was written by our Commerce team.