With More Metrics & Handy Apps, These 5 Smart Scales Are A Step Up On Your Goals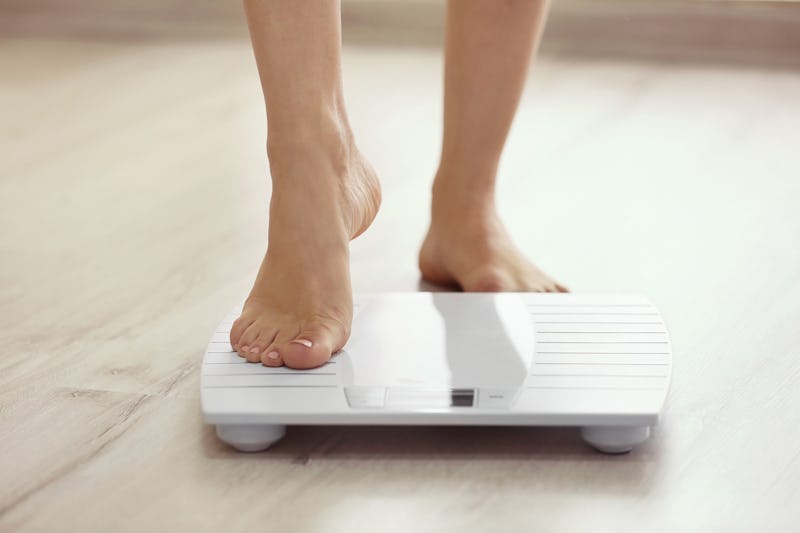 Shutterstock / Africa Studio
Say goodbye to the traditional analog scale, and hello to an upgrade; the best smart scales can measure a wide range of changes in your body, connect via Wi-Fi or Bluetooth, and help you easily keep track of your health.
How do smart scales work?
Most smart scales use bioelectrical impedance analysis technology, and that fancy term just means that the scale sends super weak electrical currents through your feet in order to get the measurements. It doesn't hurt — in fact, you won't even feel it. However, if you're pregnant or have an electrical implant (like a pacemaker) you shouldn't use a scale with bioelectrical impedance.
How do I pick the best smart scale?
Think about the following factors when picking out the best smart scale for your needs:
Measurements: Some smart scales are on the simpler side and only track a few measurements, while others can provide a whole bunch of different measurements (like bone mass and muscle mass). Think about which metrics are essential for you.
Compatibility: Most smart scales connect to a dedicated free app. Some can even sync the data to additional apps like the Fitbit, Google Fit, and Apple Health apps. Make sure that your smart scale syncs with any apps that you want to use.
Wi-Fi versus Bluetooth connectivity: All of these smart scales pair with your smartphone using either Wi-Fi or Bluetooth. A Wi-Fi-connected scale is super easy to use and will automatically send the data to your phone, but it tends to be a pricier pick. If you choose a Bluetooth-connected scale, you need to have your phone relatively close by in order for the data to be transmitted to the app.
Users: If a lot of people need to use the smart scale, make sure to pay attention to how many users can track data. Some of my picks below allows for unlimited users, while most options only allow for eight or so.
Smart scales tend to be pricier than their non-smart counterparts, so to help you make the best buying decision, I narrowed this list down to the five best smart scales and even included a budget-friendly pick that's less than $30.
Bustle may receive a portion of sales from products purchased from this article, which was created independently from Bustle's editorial and sales departments.