The Official Guide To The Best Drugstore Cleansers On The Market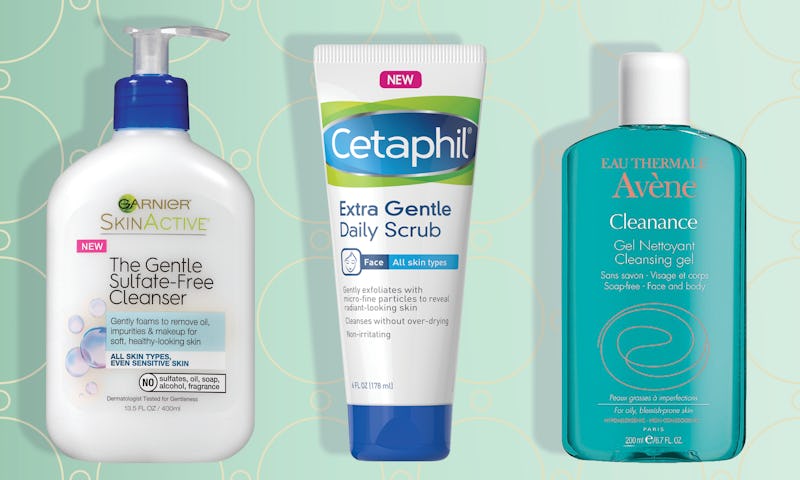 Bustle/Amazon
Finding the right face wash is a long and personal process. It takes a lot of trial and error to figure out what works best for your skin, but luckily, there are a few infallible cleansers that you can always rely on. Unlike certain beauty products (such as foundation and serum), you don't have to spend a ton of money to get a great cleanser; in fact, many beauty editors and aestheticians swear by the simplest, least-fussy formulas for keeping their skin healthy and clean. Ahead, a foolproof guide to the best drugstore cleansers, depending on skin type — which is really the most important thing to consider when choosing a face wash.
But first, some general rules of thumb to keep in mind. The first and most obvious one is to ensure you're washing your face every night to rid your skin of any pollutants, dirt, and sweat that accumulated throughout the day. If you wear makeup on a daily basis (or sunscreen — which of course you should be), you might want to consider the double-cleansing method, which entails washing your face first with an oil-based cleanser, followed by a water-based cleanser. The oil cleanser breaks down makeup and other oil-based products (like creams and sunscreen), while the water-based cleanser removes anything left on your face — and in your pores.
In a similar vein, you should know that makeup wipes do not count as washing your face. Not only can they leave their own trace residue, but more than actually cleaning, they really just wind up spreading makeup and oil all around your face. Feel free to use a makeup wipe as the first step in your routine, but always follow up with a proper face wash.
Now that you're armed with a few key cleansing tips, scroll on to find the best drugstore face wash for your skin type.