The Best Trolling Of Town Hall-Ditching Politician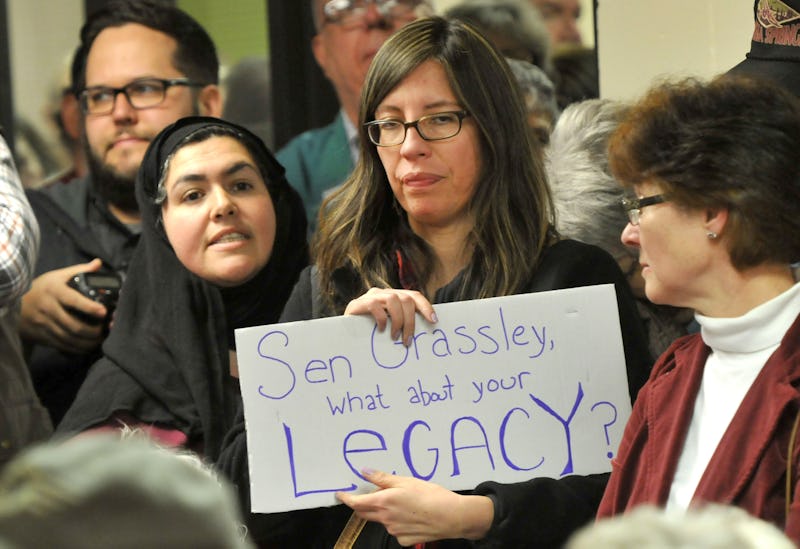 Steve Pope/Getty Images News/Getty Images
Sure, the life of a congressional representative in 2017 sounds grand — The title! The Washington D.C. offices! Getting sworn in by Joe Biden! — but being a Republican in the age of Trump is no easy feat. As Congress broke for its February recess, representatives returned to their home states with some angry constituents waiting for them. And while some put on a brave face and took it, according to a report in VICE, over 200 GOP congressmen avoided their constituent town halls, fearing bad media moments where unhappy constituents chant harsh slogans like, "Do your job!" and "Where are you?"
Fortunately, we live in the age of the internet, where everyone who wants to can have their say — if not face-to-face with their tax-dollar-supported Congressional representative, then at least with the wider public through social media. And the jilted constituents have not been taking the rebuffs lying down. People have shown up at town halls regardless of whether their representative is there — and boy, are they annoyed.
We've gathered here the top 11 trolling of politicians who avoided their town halls this week, and I have to say, I'm impressed with how creative the citizenry has gotten. So, grab your digital pitchforks, light your Twitter torches, and strap on your angriest overalls: we're going a-politickin'.
1. Sen. Thom Tillis, R-North Carolina
This might be the tamest shade that can be thrown, the equivalent of a "Where u at?" text.
2. Rep. Darrell Issa, R-California
Issa, who might be most well known for starting the gubernatorial recall campaign that led to the election of Arnold Schwarzenegger as governor of California, was MIA on at a town hall on Tuesday night. I know that this account is just using Coretta Scott King's picture as its avatar, but I still read "This is democracy. You should come try it" in her voice. Deep cut.
3. Sen. Deb Fischer, R-Nebraska
Nothing quite like footage of a senator running away from the people who she works for. Especially when all they're saying is "Hey, Deb! Meet with us!"
4. Rep. David Rouzer, R-North Carolina
With constituents like these, who needs an opposition party? Twitter user @madeline_says, along with many other residents of North Carolina's 7th district, have been asking for a town hall with their congressman everyday for the last 17 days. On Wednesday, she does it from a swing!
5. Sen. John Cornyn, R-Texas
One danger of having a Twitter presence is that your constituents can see what you're doing when you're not meeting with them. I read the subtext here as "What? I'm not angry, senator. You'd know if I was angry."
6. Rep. Lamar Smith, R-Texas
This is one of several "Missing" posters that have sprung up in the last few days — complete with tear-offs on how to contact the elusive representative!
7. Rep. Bill Posey, R-Florida
These constituents took the "Missing" poster to the next level, creating a "Wanted" poster for their congressman.
8. Rep. Paul Cook, R-California
Protesters made their own "Missing" ads to go on the side of milk containers at their local supermarket. Extra points for creativity!
9. Rep. Greg Walden, R-Oregon
Listen, I feel like this should be obvious, but if your name is very close to a children's book character known for being difficult to find, I'd avoid being elusive. On the other hand, props to the protesters who went to Walden's district office and, only finding a cardboard cut-out of the congressman, put a suit on him and stuck him in front of a podium.
10. Sen. Joni Ernst, R-Iowa
Another PROTIP: if you make a big deal about how tough you are during your campaign by talking about how castrating hogs ain't no thang, then you probably don't want to be caught on camera running away from citizens.
11. Sen. Richard Burr, R-North Carolina
But perhaps the sickest burn of all goes to Evalyn Johnson, who took out a paid ad in Raleigh's The News & Observer to shame Sen. Richard Burr into holding a town hall. That, my friends, is commitment.