Kimye's New Baby Got Personalized Gifts From The Chicago Bulls & TBH, You'll Want Them, Too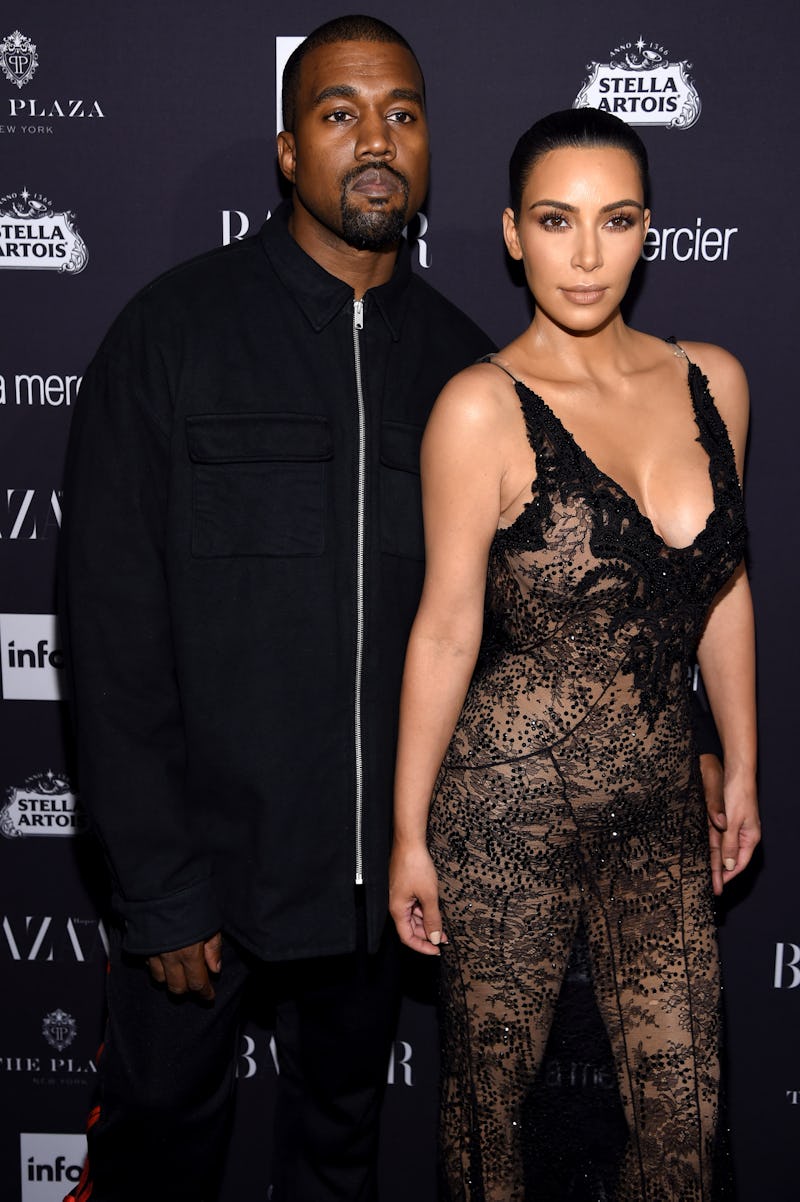 Dimitrios Kambouris/Getty Images Entertainment/Getty Images
Kim Kardashian and Kanye West's daughter Chicago may only be a month old, but she's already racking up some pretty fabulous gifts. Kanye West and Kim Kardashian received gifts from the Chicago Bulls for baby Chicago. The personalized gifts are definitely fitting of Kardashian and West's youngest child.
The reality star posted a shoutout to the basketball team on her Instagram story after she received the presents. Kardashian showed her fans the gifts, which included a Chicago Bulls jersey with the name "West" on the back, a Bulls sweatshirt, and a Bulls bib. She captioned the video, "Thank you @chicagobulls". The gifts are really sweet and totally appropriate. And could be a sign that little Chicago will be a future fan of the basketball team.
Of course, Chicago's father, West, is a big supporter of the team already, seeing as though he's from the Windy City himself. He even performed an impromptu rendition of "All Day" at a Chicago Bulls game in 2015. The rapper's Chicago roots obviously influenced the naming of the new addition to the Kardashian-West family, so it's nice that the basketball team from West's hometown was able to show off their "Chicago" support in such a kind way.
In case you missed the Kardashian-West baby news, the couple's little one arrived via surrogate on Jan. 15. Kardashian announced the happy news on her website. It was previously reported in June 2017 that the famous pair were welcoming another child to their family. Kardashian was unable to carry the child herself, as she experienced serious health issues during both of her previous pregnancies with children North and Saint, as E! News notes.
The reality star was always open about her journey to have another baby, especially on Keeping Up with the Kardashians (executive producer: Farnaz Farjam). On an episode of the show from March 2017, she revealed that she was willing to have a high-risk pregnancy in order to have more kids. Ultimately, Kardashian decided to go the surrogacy route because it was a the safest way for the family to welcome more children, as People first reported in June 2017.
As soon as Kardashian announced the baby's birth, there was a ton of speculation into what the little one's name would be. There were surely a ton of predictions from fans, with many thinking they would go with Vuitton or Donda. Alas, no one quite predicted that the pair would name their third child "Chicago." The name inspired a slew of memes and a bevy of big reactions. However, seeing as though the name has a special meaning for West, the name is actually super sweet. Sure, it's one of the most unique names out there, but for a member of the Kardashian-West fam, it certainly fits.
While Kardashian hasn't revealed any photos of her child yet, fans did get a glimpse of her little one in Kylie Jenner's Feb. 4 baby reveal video. (You can see Chicago starting at the 8:25 mark in the video above.) The video followed Jenner's surprise social media confirmation surrounding her own long-rumored pregnancy and the birth of her baby girl, who she later revealed was named Stormi. It showed her pregnancy journey with her own child, but, much to the delight of many Kardashian diehards, also revealed the first look at baby Chicago. And, to the surprise of absolutely no one, the newest West sibling is completely adorable.
Other than Chicago's appearance in Jenner's vid, the youngest member of the Kardashian-West family hasn't been spotted in any other photos (even though Kardashian isn't shy about posting on her many social media channels). Until the brood reveals any new details about their little one, besides which basketball team she'll be rooting for, fans will just have to stay tuned.