Here's What The Lisa Frank x Glamour Dolls Eyeshadows Look Like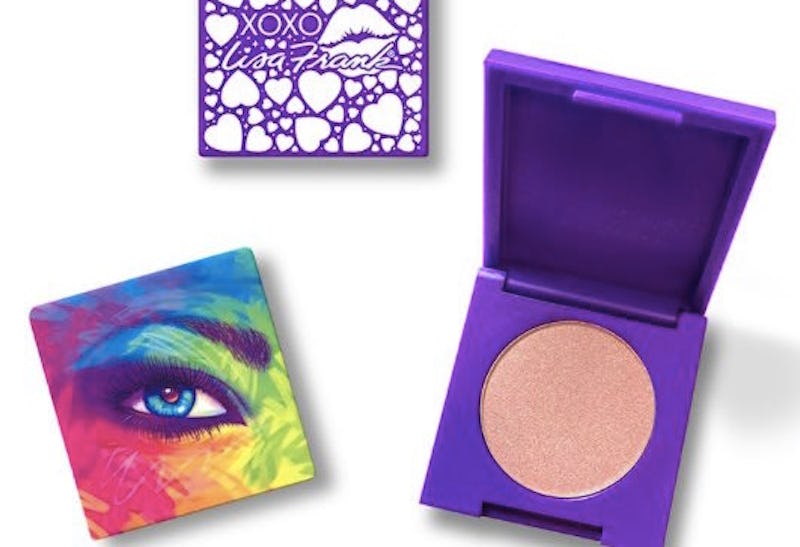 As any '90s kid can recall, the most coveted of all school supplies was anything and everything Lisa Frank. And even though many of us have graduated from loving folders and pencil cases to obsessing over lipstick and contour kits, our love for kitschy and colorful leopards and kittens remains. That's why one of the most hotly anticipated makeup line launches of the year is so exciting — and after a few other sneak peeks, we finally have a look at the Lisa Frank x Glamour Dolls eyeshadows.
Revealed on Glamour Dolls' Twitter, the single shadow has a rosy champagne hue, and like all Glamour Dolls products they're vegan and cruelty free. But let's be honest — we also really care about the packaging. It comes in a purple-based palette with an eye illustration on the front. And even though there aren't any cute animals involved, it does feature all of those signature electric Lisa Frank colors.
The shadow is available to pre-order now on the Glamour Dolls x Lisa Frank BackerKit page, and it's expected to ship in September 2017. The best part? It's only $6, so while this might have been a splurge in '90s-kid dollars back in the day, it's pretty affordable as far as eyeshadows go now. Without further ado, here's a peek at the eyeshadow.
Lisa Frank x Glamour Dolls Single Eyeshadow, $6, BackerKit
This isn't the first exciting look we've had at the line though. Here are a couple of other reveals that got us '90s kids in a tizzy (psst — they're also available for pre-order).
Unicorn Angled Blush Brush
Lisa Frank x Glamour Dolls Unicorn Angled Blush Brush, $5, BackerKit
Unicorns and Lisa Frank. What more could you want?
Travel Bronzer
Lisa Frank x Glamour Dolls Travel Bronzer, $6, BackerKit
There's that pretty little leopard we know and love.